An iPhone hacker claims to have been told by Microsoft's legal team to stop giving broken handsets a Windows Vista make over.
The coder known as ebl4287 has posted on the modmyifone site - where news of the VistaPerfection software for the iPhone surfaced - that "Due to a big fat legal letter that was sent from Microsoft, I will no longer be making/distributing Vista themes."
ebl4287 alerted the world, and no-doubt Microsoft's legal team, to a planned new version of the VistaPerfection software in May. Version 2.0 featured more than 90 icons along with the Vista wallpaper, dock and on/off experience.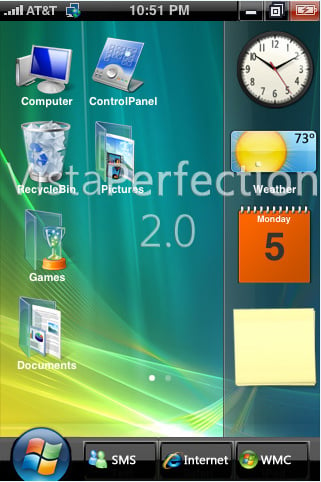 VistaPerfection, no more?
A Microsoft spokesperson told The Register: "We are currently looking into this issue and can't confirm at this time whether Microsoft sent this letter."
Let's just hope the legal eagles at Microsoft's desktop and phone rival Apple have a more evolved sense of tolerance - though one suspects not.
Some in the open source community have already responded to Ubuntu founder Mark Shuttleworth's call to beautify the Linux desktop, only by giving it an OS X look.
And the version of Linux they have beautified? Shuttleworth's Ubuntu.
MakeTechEasier has published details of code that'll let you change Hardy Heron to look like OS X, in an article flagged up by Reg regular and Mulesource chief executive Dave Rosenberg.
As Rosenberg notes - and as anyone will tell you - looks are one thing, apps are another.®