Review And at first glance, the KC550 looks like a chip off the old Chocolate block, but with proper buttons rather than the touch-sensitive surfaces of LG's confectionery-monikered hero line.
There's a large 2.4in screen surrounded by shiny black plastic and a chrome rim. On the back the 5-megapixel camera lens is hidden behind an extended cover which stretches for almost three quarters of the length of the handset – which has the dual effect of marking out the camera for attention and also makes it easy to find when you're fiddling to get a quick snap.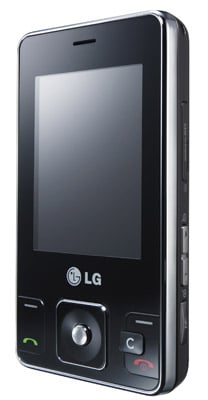 The screen is bright enough to be seen in sunlight
But pick it up and the effect is spoiled somewhat by the cheap-feeling plastic. The slide feels rattly and not terribly secure, as well as being rather prone to slipping open in the pocket. The two-tone (colour, not sound) keypad too feels spongy and unresponsive, with keys blending together a little too well for easy definition when you're searching with your thumb.
The screen itself however is much classier, with 262,000 colours, sharp definition and bright enough to be seen in sunlight. The square D-pad below it is a return to that cheap feeling, but the onscreen menus are a delight – good-looking icons but with a numeric equivalent for each choice – much quicker than scrolling through lists.
The 5-megapixel camera is pretty much the Acme of cameraphone at the moment. Some are better than others of course, but they tend to be reserved for high-end handsets. LG says this is the cheapest handset to pack a 5-megapixel camera, and sure enough, its pay-as-you-go price seems to be set at around £180.