This article is more than 1 year old
Transition roadable-plane/flyable-car prototype on show
Not a true flying car, but it'll do for now
A prototype of the Terrafugia Transition - the folding-winged, road-drivable light aeroplane, perhaps the vehicle closest in the world to being a flying car - was revealed to the general public at an air show in America yesterday. The designers say they are on track for first flights and road-safety testing by the end of the year.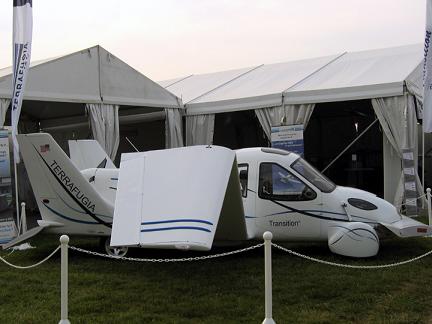 Taking driving to a whole new level. Credit: Terrafugia.
"Completion of the Transition Proof of Concept is a significant milestone in the development of the first practical roadable aircraft," said Carl Dietrich, CEO and CTO of Terrafugia Inc, announcing the machine's debut at AirVenture Oshkosh 2008.
As an aircraft the Transition is an ordinary small single-engined plane, designed to fit into the new US category "Light Sport Aircraft". A licence to pilot a light-sport plane is easier to get than a normal private pilot's ticket, and the red tape associated with running such a machine is thinner.
Small private planes, of course, aren't flying cars. They need a lot of room to take off and land, and make too much noise when doing so to be tolerated in built-up areas. A normal private pilot can't acquire or keep up the instrument flying skills that would allow operations in bad weather or heavily-used airspace. Even if they could, current air-traffic systems could never cope with planes in the same densities as roads can accept cars, and there are safety rules about single engines over urban areas.
So a true science-fiction flying car isn't achievable yet. But, according to the Terrafugia engineers, with the advent of the light-sport category it is feasible for a small plane to also be a road car. A production Transition, they say, will be of a size to fit in a normal parking space with its wings folded, and will be certified road legal by the National Highways and Transportation Safety Administration. It will even run on super-unleaded.
Thus, you can drive to the shops, work, school etc. on the ground as you would today. But if there's a long journey ahead and the weather is within your piloting abilities, more options open up. You can drive the Transition to anywhere it's legal to take off - any small aerodrome, or even a decently sized bit of private road if the owner is happy - and it's up, up and away. You may not be able to avoid local congestion on the daily commute, but at least there's no need to sit in motorway traffic for hours at the weekend.
You then land on the same kind of strip, as near to your destination as you can find, fold the wings and drive the rest of the way. Should bad weather set in, you simply head home on the ground. No need for an instrument licence, hire cars, tie-downs or hangar space.
It's an attractive concept, and a Transition could be yours (at least if you're American) from around $148,000, deliveries from next year - though all planned production through Q2 2010 was booked up long ago according to Terrafugia. This tends to support the firm's belief that there are a large number of qualified private pilots out there, ready and able to provide a good market for Transitions.
The only tiny quibble that springs to mind is the rather limited useful load - just 550 lb on current estimates, which is unlikely to increase and might even decrease as the design finalises. With a full 120lb tank of petrol, this leaves just 430lb for people and bags. This means that two heavyish people won't be able to take much baggage with them on a long flight - though of course, the FAA won't be there checking your all-up weight every day. With a decent amount of runway a Transition could no doubt get airborne a bit overweight.
We await news of flight and road testing with interest. ®