This article is more than 1 year old
Extra-heavy minicopter 'Jetpack' astounds world+dog
Not a jet: and certainly not a pack, either
The big story on the gadget beat this week is undoubtedly the Kiwi ducted-fan "jetpack", now on show at the AirVenture expo in Wisconsin. The Martin Jetpack, decades in development by NZ garage inventor Glenn Martin, has suddenly achieved worldwide fame largely due to the fact that a New York Times scribe had a bit of a hover about in it this week*.
So, has the Martin Jetpack got anything that the others haven't? Or is this just another summer news-drought jetpack story, about another impractical curiosity rather than anything actually new?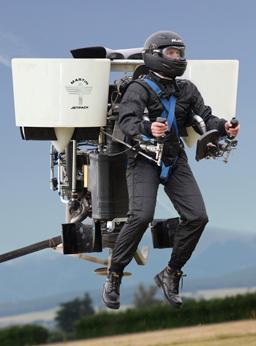 Like a mini-copter, but (a lot) heavier.
After all, the limits of jetpacks are well explored. Basically, one which can actually be lifted by a normal human (and which won't scorch the user's legs or posterior) is usually plagued by very brief endurance, typically less than a minute's flight time. Even this generally requires the use of exotic, dangerous hydrogen peroxide fuel. How does the Martin job stack up?
At first sight, not too badly. It runs on ordinary two-stroke juice, and it carries enough for half an hour. The thrusters don't emit superhot exhaust. There's a backup, fast-deploying parachute in case of trouble.
Martin has achieved all this by eschewing the usual "jetpack" propulsion systems, which are generally either actual mini turbojets with exhaust heat issues or hydrogen-peroxide rockets with sharply limited fuel endurance. Instead, Martin has chosen to use ducted fans - essentially enclosed helicopter rotors - driven by a normal piston engine. The Martin Jetpack is actually more of a strap-on helicopter.
In fact, with a dry weight of 250 pounds, it's not a strap-on copter that you could carry about. Nor could you land and take off from your own feet, in proper jetpack style. Martin's design is a small aircraft which you strap into; it has a (highly necessary) undercarriage. Indeed, there are existing mini-copters which weigh much less, and so have a stronger claim to the use of the magical term "pack" in their title. Sure, the Martin machine's ducted fans have a (somewhat) smaller footprint than 12-foot-diameter rotors, but there's a heavy price to pay in increased weight and fuel consumption, as there always is in these cases when you shrink the thrust disc area.
So there isn't all that much you could do with the Martin "Jetpack" that you couldn't do with a regular minicopter, a more convenient machine in most respects. The Martin design isn't quieter, or lighter, or cheaper. You still won't be allowed to land it on your office roof or carpark, and even if you were it would be harder to put away and more expensive to run. It's possible to imagine a few things Martin's machine can do that minicopters can't, but now we're talking about a small niche within another niche which is already so small as to be basically nonexistent.
You have to admire Martin's persistence and ingenuity, but in the end there's nothing new about ducted fans or two-stroke engines. The regulatory climate regarding personal flying machines remains unfriendly, with the safety bar set much higher than it is for cars or motorbikes - perhaps unreasonably so, but it is a fact. There are no doubt wealthy thrill-seekers who would pay US$100,000 for a smallish, not vastly useful personal flying machine, but not that many: and Martin has plenty of competitors for those customers.
Yup - basically just another summer jetpack story. But Martin has a pretty (if rather slow) website, at least. ®
Bootnote
*And broke it by sucking a tree branch into an intake, showing that even ducted fans normally need a fair bit of room.