Hacker murders Facebook word game
Scrabble, Scrabulous, and Revenge 2.0
Anyone who's been mercilessly pummeled by a fistful of undesired consonants can tell you that board games are too often serious business.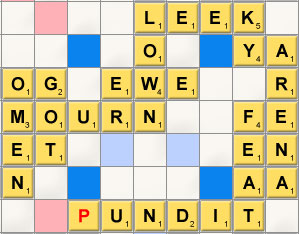 Add the anonymity and general dyspeptic attitude of the internet, and it's surely a recipe for short fuses.
Witness: the white-hot passion and misdirected vengeance of fans of the popular Facebook word game Scrabulous.
It began when the Scrabulous developers were recently forced to disable the game for users in the US, UK, and Canada following legal action by Hasbro.
The application bears a rather striking resemblance (and we're being diplomatic here) to Hasbro's own game, Scrabble. Last week, the toy maker filed a copyright infringement suit in US District court in New York.
But Scrabulous, which was made by Indian developer brothers Rajat and Jayant Agarwalla, also happens to be one of the most popular applications on Facebook. It reportedly hosts hundreds of thousands of players per day.
Alas, to assume die-hard Scrabulous fans are predisposed to war with words is apparently in error.
Much wrath has instead been lavished upon Electronic Arts, which developed an official (albeit arguably inferior) Facebook version of Scrabble for Hasbro.
Shortly after Scrabulous was removed from Facebook, EA's sanctioned scrabble board was also unceremoniously tossed and scattered by avenging word fiddlers.
According to the Los Angeles Times, the game has been inaccessible for most of today.
EA is blaming hackers. According to a company press statement:
"EA's Scrabble Facebook game experienced a malicious attack this morning, resulting in the disabling of Scrabble on Facebook. We're working with our partners to resolve this issue and have Scrabble back online and ready to play as soon as possible."
Of course, there's no real way to tell if there's a direct connection — but we'll go out on a limb here. Either that, or EA wasn't expecting the server load of migrating Scrabulous players and is trying to cover it up. Not that EA admitting their software is vulnerable to attacks is a great feat in public relations.
We're inclined to believe its a case of an angry board game fan with very confused priorities. And why not? The word's a low scorer for its length. ®