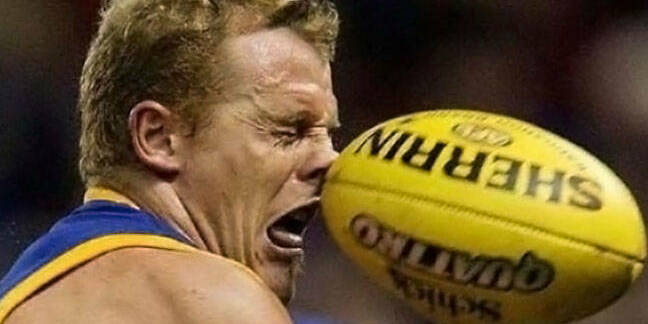 An Australian man unsurprisingly faces a spell in jail after cops pulled him for driving at 147km/h (91 mph) in a Holden SV6 packed with 5kg of cannabis, two dope plants, a couple of drug pipes and a loaded .22 rifle.
Brendon Alan Erhardt, 39, was pulled on 16 July on the Northern Territory's Stuart Highway roughly 500km (310 miles) south east of Darwin, according to the Northern Territory News.
One of the arresting officers explained to Darwin Magistrates Court that Erhardt became "visibly agitated" when told his car would be searched, but said "go right ahead". Cops accepted the invitation, and quickly discovered "4.96kg of cannabis hidden in a blue esky* in the boot, two cannabis plants on the back seat, two drug pipes" and the aforementioned firearm.
Prosecutor Sergeant Melinda Edwards told the court the father-of-three told officers he'd "masturbated while driving" just before he was stopped. She added: "He also video recorded himself masturbating while travelling at a speed of 150km/h."
Erhardt protested to officers that cracking one off at the wheel was "not dangerous", since the "only person he could hurt was himself". He claimed he'd found the drugs at a rest stop 100km (62 miles) north of Coober Pedy, and intended to smoke the lot at home.
Regarding the rifle, Erhardt said it was for "shooting kangaroos from the vehicle whilst driving north".
None of this impressed Magistrate Greg Cavanagh, who described the rest stop yarn as "fanciful". He suggested the whole thing smelt of a "courier" run, and the court heard the drugs had a value of "AU$136,000 if sold by the gram in Darwin - or double that in indigenous communities".
In the end, though, the court decided to grant Erhardt a certain degree of mercy in allowing him AU$10,000 bail so he could marry his girlfriend before going to jail. He is due back before the beak on 1 September. ®
Bootnote
* An insulated plastic cool box.
Sponsored: Webcast: Ransomware has gone nuclear