The popular Facebook application Scrabulous may have been shut down yesterday in response to a lawsuit from Hasbro, but today it's been reborn as a word game designed specifically to appease the less-than-jolly toymaker.
Indian developer brothers Rajat and Jayant Agarwalla today released a new game on Facebook called "Wordscraper." The application is still very similar to Hasbro's own game, Scrabble, but with tweaks to the rules and the gameboard in order to skirt around intellectual property infringement claims made against Scrabulous.
From a legal perspective, the most significant difference is probably its name. The change may help avoid confusion with Scrabble, which for Hasbro was a major point of trademark contention.
Letter tiles have been switched to circles rather than the square tiles used by Scrabble. Users can also now create their own boards by assigning different point values to each space.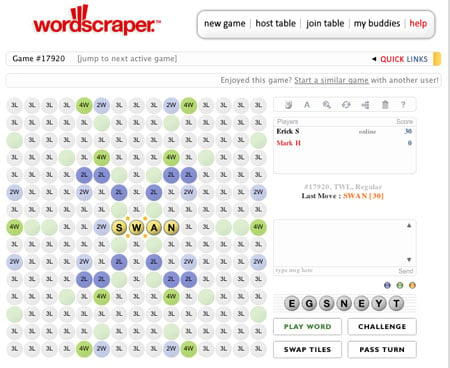 Before Scrabulous was removed from Facebook at the behest of Hasbro's legal dogs, the game was played by about 450,000 people around the world every day.
There are currently two official versions of Scrabble available on the social networking site — a North American version made by Electronic Arts and a "worldwide" version made by GameHouse available outside the US and Canada only.
The question remains whether desk jockeys suffering from Scrabulous withdrawal will transition to Wordscraper or one of the official versions of Scrabble. Presently EA's Scrabble reports nearly 63,000 daily active users compared with Wordscraper's 3,569 fans.
Guess it's your move now, Hasbro. ®