This article is more than 1 year old
Apple 'jams iPhone-as-modem app'
No ad hoc Wi-Fi for you
Updated Apple has apparently put the blocks on an iPhone application that turns the device into a modem for a PC. Macrumours reports that Canadian software company Nullriver Inc. released the application, called NetShare, yesterday through Apple's iTunes store, but it was withdrawn within hours.
Nullriver, best known for its Installer application for jailbroken iPhones, does not list the application on its website.
Mobile phone users have been able to use phones as a means of connecting to the internet for a decade now - initially via cable, then infrared and Bluetooth. However Apple disabled this functionality in the iPhone's Bluetooth stack, and does not permit users to create ad hoc Wi-Fi hotspots with their iPhones or iPod Touch devices, either. According to MacRumours, NetShare fixed this by allowing ad hoc Wi-Fi to be created. A similar application for Symbian S60 phones exists called JoikuSpot.
Nullriver insists that the application did not violate Apple's developer guidelines.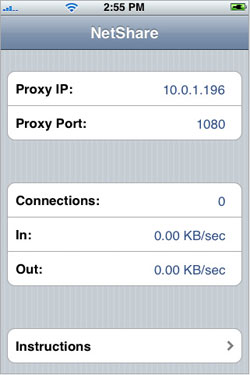 Official iPhone applications may only be distributed by Apple through its iTunes Store - illustrating the value of the "jailbroken" (aka, unofficial) software channel. Meanwhile, many operators turn a blind eye to phones being used as "tethered" modems - including AT&T, when your reporter was a Stateside subscriber.
Reg readers listed their most-wanted iPhone apps here recently. ®
Update
Netshare is presently back on the iTunes App Store and available in both the US and UK. Americans should bear in mind they risk running afoul of AT&T's terms of service by using the application.