This article is more than 1 year old
US Navy spares Silicon Valley's 'Alexandria Lighthouse'
Hangar One will stand - naked
Hangar One, the onetime airship station that has long symbolized California's Silicon Valley, won't be destroyed after all. The US Navy will allow it to stand - without its clothing.
More than two years ago, the Navy designated Hangar One for demolition, after discovering that the mammoth Mountain View landmark was poisoning nearby wetlands. But some feisty blimp garage lovers fought to save the structure, and yesterday, as reported by the San Jose Mercury News, the Navy said it will leave the hangar's steel skeleton in place while removing its toxic siding.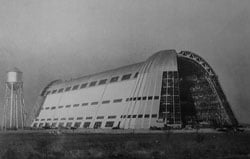 Hangar One (clothed)
Lenny Siegel, who heads the ad hoc Save Hangar One Committee, sees this as half a victory. "We can still fight to restore the structure," he tells The Reg. "But this isn't a longterm solution."
Siegel compares Hangar One to the Colossus of Rhodes and the Lighthouse of Alexandria. "Nothing like this will ever be built again. If you tear it down, it's lost forever," he says. "If you tear it down, all you have is waste - and memories."
Measuring 1,133-feet long by 308-feet wide by 198-feet high, Hangar One is the centerpiece of Moffett Field, a naval air base built in the early 1930s. The hangar originally housed the USS Macon, a 785-foot-long dirigible. The blimps floated in during the Second World War.
The base was closed in 1994 and handed to NASA, which now uses its airstrip as means of taking money from the jet-setting co-founders of the world's largest search engine. ®