Plenty has been made of the biodiesel-powered, Wi-Fi-enabled buses that whisk San Francisco's Google serfs to and from their Mountain View jobs in comfort and style. According to most accounts, it's a win-win proposition that provides a highly desirable perk to employees while also reducing a significant number of cars in one of the nation's most traffic-choked locales.
Maybe. But not everyone sees the Google Bus in such a favorable light, and some of them are taking their displeasure to the city's streets. Over the past few weeks, elaborately designed stencils like the one below have appeared in San Francisco's Mission District where they can't be ignored by Google drones. The stencils depict a five-color search engine that looks a lot like the Google home page.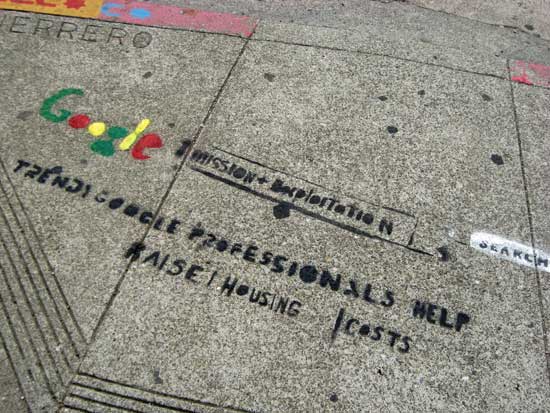 The search term is "mission + exploitation" and just in case there's any ambiguity, a message directly below reads: "Trendy Google professionals help raise housing costs."
One of the drawings is on 24th Street, near Valencia Street, which just happens to be one of the Googlemobile's stops. On any given workday morning, literally scores of employees bound for Mountain View can be spotted waiting there.
The spectacle has a distinct flavor of deja vu. Once a bastion of hipsters and artists, the Mission barely survived the dotcom boom of the late 1990s. Under the influence of nouveau riche "entrepreneurs," rents and real estate prices mushroomed. Neighborhood hair salons and clubs that featured live punk rock were replaced by oxygen bars and high-end sushi restaurants.
With the recent real-estate meltdown and talk of a recession hitting the US economy, the salad days are over. Boarded up storefronts aren't uncommon on Valencia street, and in outlaying neighborhoods, housing prices have even declined.
But remarkably, rents and housing prices in the Mission continue to climb. It may be unfair to attribute all the the gentrification to the influx of Google employees, many giddy with salaries that exceed $100,000 and recent stock-option gains. But judging from listings like these, there's no denying proximity to a Google bus stop isn't something real estate agents believe is valuable.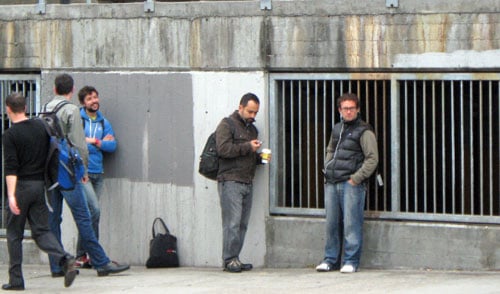 Google serfs wait on Mission sidewalk for Google bus
So next time you're in the Mission and asked to shell out $10 for a sub-par glass of Cabernet, say a silent thank you to Eric Schmidt and his highly successful Google bus. It just may finish what the dotcom frenzy started. ®