This article is more than 1 year old
EMC in fourth-gen CLARiiON call
CX4 storage arrays get flash
EMC's fourth generation CLARiiON mid-range storage array is announced today with a 4-model range topped by a quad-core processor and offering flash drive support.
As prefigured the CLARiiON CX4 Series has up to twice the performance, twice the capacity, twice the memory and twice the number of LUNs (logical unit numbers) of previous generations, enabling support of multiple application tiers on a single CLARiiON CX4 array. This is the result of a new 64 bit FLARE storage operating environment utilizing multi-core Intel processors that improve performance and double system scalability (up to 960 drives) for improved consolidation.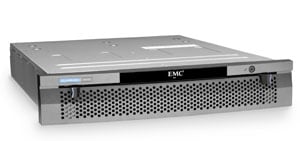 David Donatelli, EMC Storage Division President, said, "We are again pioneering the use of flash drives, this time in midrange storage, and have designed these systems to take full advantage of server virtualization technology. The CLARiiON CX4 Series is unmatched in the industry when it comes to scalability, features, energy efficiency and ease of use."
The four models
CLARiiON CX4-120, which features up to 120 disk drives for a total capacity of 120TB (terabytes), 6GB (gigabytes) of system memory and up to12 Fibre Channel and/or 8 iSCSI ports.
- CLARiiON CX4-240, which features up to 240 disk drives for a total capacity of 231TB, 8GB of system memory and up to 12 Fibre Channel and/or 12 iSCSI ports.
- CLARiiON CX4-480, which features up to 480 disk drives including SSDs for a total capacity of 471TB, 16GB of system memory and up to 16 Fibre Channel and/or 12 iSCSI ports.
- CLARiiON CX4-960, which features up to 960 disk drives including SSDs for a total capacity of 951TB, 32GB of system memory and up to 24 Fibre Channel and/or 16 iSCSI ports.
More details here
New features
- Dual-protocol Fibre Channel and iSCSI storage area network (SAN) connections with online expansion and dynamic addition of I/O ports. The new UltraFlex technology enables future connectivity such as 8Gbit/s Fibre Channel, 10Gbit/s iSCSI and FCoE (Fibre Channel over Ethernet). In addition, the CLARiiON CX4 Series with UltraFlex helps extend the flexibility of VMware environments by now enabling the dynamic addition of I/O ports—along with storage capacity and performance—to the virtual infrastructure.
- Solid state disks (SSDs), more than 30 times faster than traditional drives, for "tier 0" storage requirements.
- Virtual (thin) provisioning capabilities that allow administrators to present an application with more capacity than is physically allocated. Capacity can be for physical, VMware and other virtual servers while monitoring features and automated alerts allow storage pools to be expanded online.
- Disk spin down capabilities that will automatically place inactive drives in sleep mode and activate on demand to save energy. This policy-based feature is designed for applications that have regular spans of time with little or no activity.
- An adaptive cooling design and support for new low power one terabyte SATA disk drives that maximize energy efficiency. With this new design, the amount of energy used to cool the system can be significantly reduced as cooling fans vary speeds as needed to maintain the proper temperature. The new low power drives, which spin at a slower RPM, use 32 percent less energy per terabyte than traditional SATA drives.
- Integration with VMware Site Recovery Manager to form a simple, turnkey solution for VMware disaster recovery.
- Integrated continuous local and remote replication (CLR) features for EMC RecoverPoint/SE software that simplify deployment in both Fibre Channel and iSCSI environments and optimize bandwidth.
- Integration with the RSA enVision platform to maximize an organization's security posture. The CLARiiON CX4 Series is also integrated with EMC's PowerPath path management software with encryption and key management technology from RSA, which can encrypt and decrypt data at the host as it is sent to and from the array.
All four models are supported by all CLARiiON management and replication software including Navisphere Management Suite, MirrorView, SnapView, SAN Copy and other software.
A competing view
Bob Fine, director of product marketing at Compellent, said of the CX4: "Today's announcement really validates the innovation of new but established storage companies like Compellent that have generated significant momentum in the marketplace. Customers tell us multiple product lines and models are interim fixes and don't address the real reason these organizations are turning from EMC to other brands - namely high cost, complicated management and inflexibility. That's why more than 1,000 customers to date have chosen Compellent's single, integrated platform, which unifies storage virtualization innovations like automated tiered storage and thin provisioning-features that would require existing EMC installations to undergo 'forklift' upgrades to attain."
Availability
The CLARiiON CX4 Series is generally available worldwide from EMC, its Velocity2 Program Partners and Velocity2 Authorized Services Network (ASN) Partners. It is also being offered by Dell under the Dell/EMC brand and Fujitsu Siemens Computers under the FibreCat brand. Flash drive and virtual provisioning capabilities will be available in October 2008. Drive spin-down is available for EMC Disk Library today; additional general-purpose applications will be supported as they are qualified into 2009.
Copyright © 2008, Blocks & Files.com