Microsoft's SQL Server 2008 has finally found its way into the daylight.
Redmond said today it has finalized code for the new version of its database software and entered a release to manufacturing phase.
SQL Server 2008 was delayed by several months from its intended release date, but Microsoft is still extremely pleased about having a new edition out within 24 to 36 months from the release of SQL Server 2005.
"Wow," said Dan Jones, Senior Program Manager on the SQL team in a conference call today. "We nailed it, and that just feels so good. This is such a great day. The sun is shining in Redmond."
Microsoft Vice President Ted Kummert said he even dyed his hair bright orange to celebrate the occasion. Sadly, as the announcement was handled over telephone, we couldn't see the outcome, but here's how we imagine it.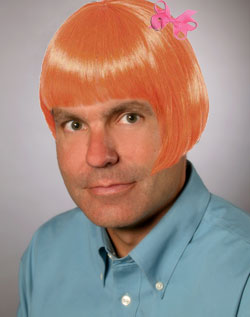 True to Microsoft style, SQL Server 2008 will be released in seven different editions including compact, express, standard, workgroup, developer, enterprise, and web.
SQL Server Web Edition was a late entry to the mix. Kummert explained that hosting customers were grumbling the six other flavors didn't offer exactly the right package of features for the job at the right price. Of course that means a new edition rather than adding something to the existing varieties.
The software is available now to MSDN and Technet subscribers and will be available for evaluation download August 7. Microsoft said Express and Compact editions can be downloaded gratis beginning today right here. [ED: They don't appear to be up yet.]
Pricing for other meatier editions will be much the same as SQL Server 2005 according to Microsoft. Upgrades from 2005 are free for customers who hold a service license. ®