This article is more than 1 year old
Man buys $1,000 worth of iPhone pixels by accident
'I blame everyone but myself'
An American man has accidentally spent $999.99 on an iPhone app that does nothing but display a glowing red ruby.
Dubbed "I Am Rich," the app is meant as a status symbol for the wealthy. But in reality, it's a scarlet letter for the gullible.
As reported by our friends at Valleywag, a Jesus Phone user known only as Lee5279xx spilled $1,000 on some red pixels because he was addled enough to think Steve Jobs has a sense of humor.
"I saw this app with a few friends and we jokingly clicked 'buy,' thinking it was a joke, to see what would happen," he says, recalling his ill-fated encounter with the Apple iTunes App Store.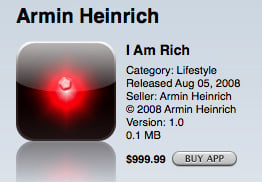 Defunct iPhone app
What happened was that when he clicked "buy," iTunes assumed he was interested in buying. "I forgot my wife had 'iclick' activated on my laptop, and it really bought this app for $999."
As Valleywag points out, there is no iclick. He probably means the iTunes one-click feature that lets Apple addicts buy stuff without facing an "Are you sure you want to buy this?" message.
Lee5279xx is peeved. But he doesn't blame himself. He blames Apple. "THIS IS NO JOKE," he says. "DO NOT BUY THIS APP AND APPLE PLEASE REMOVE THIS FROM THE APP STORE...APPLE MUST MUST MUST START TO SCREEN THESE FAKE APPS AND RIDICULOUS SCAMS."
And it seems that Apple has responded.
Though it was available as late as yesterday morning UK time, "I Am Rich" has now disappeared from the App Store. Steve Jobs doesn't have a sense of humor. But he does take pity on the slow. ®