Olympus SP-570 UZ 'superzoom' camera
This puppy packs a protruding 20x zoom
Review The problem with many in-between/crossbreed/hybrid products is that they can suffer a little from an identity crisis...and the Olympus SP-570 UZ is no exception.
At first glance, it looks like a compact version of a DSLR: it's got a large zoom lens at the front, an SLR-type grip and it's a mile away from the ultra-slim compacts that slip easily into your pocket. And yet, the SP-570 UZ is designed to be used by beginners as well as experienced users. So will this camera for all seasons end up satisfying everyone or no one?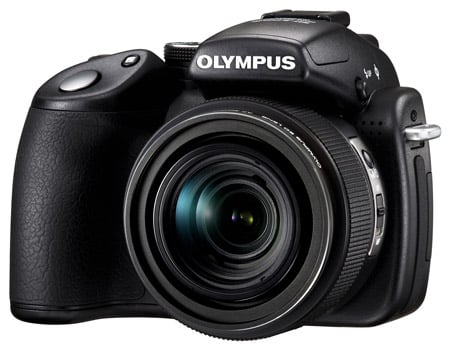 Olympus SP-570 UZ: this camera has a looooooong zoom lens
Let's get the most obvious feature out of the way: this camera has a looooooong zoom lens, and by long we don't mean a digital zoom that offers a pixelated mess at x500 magnification. No sir, we are talking about an optical zoom that is as long as your arm.
Okay, we exaggerate, but you have to admit that a 20x zoom offering is pretty impressive, even more so when you consider that the specification - 4.6-92.0mm F2.8-F4.5 - is equivalent to a 26-520mm lens on a 35mm camera. It's the sort of thing James Bond would find useful on a surveillance operation.
A quick run through reveals a large lens at the front, and at the top (from left to right), a pop-up flash button next to the...er, pop-up flash, hot shoe for an external flash, large mode dial (for auto, program AE, aperture priority, shutter priority, scene, manual, movie, my mode (which saves up to four shooting modes) and guide, which helps you select the right settings for particular scenes.