Sony has launched two fashion conscious compact cameras to help bulk out its Cyber-shot snapper range.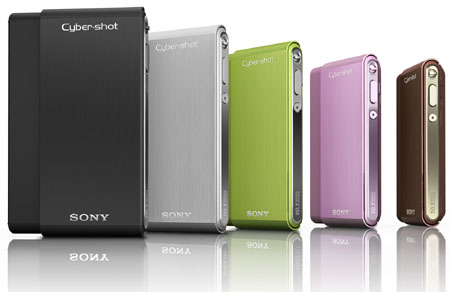 Sony's T77 has a 3in LCD
The DSC-T77 and DSC-T700 are both 10.1-megapixel snappers that come in one of five "fashion colours," including red, "champagne gold" and "dark grey".
Where the duo differ is that the T77 only has 15MB of internal memory and a 3in LCD display, whereas the T700 has 4GB of internal storage and a larger 3.5in LCD.
Both shooters have a 4x optical zoom and a top ISO sensitivity of 3200. Anyone uncertain of how to take the best pictures can opt to use one of the 11 pre-set image modes.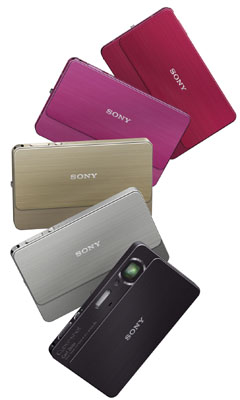 The T700 has a 3.5in display
A smile detection feature can distinguish between the grins of children and adults, and both also include face detection and image stabilisation. Only the T77 includes an anti-blink feature that warns the photographer if a subject has their eyes closed when the shutter's about to close.
Snapped images can be searched for on the cameras in a number of ways, such as by event, date, smile or face. Images can also be shared as a slide show or scrapbook.
The DCS-T77 and DSC-T700 will both be available next month.