This article is more than 1 year old
Dell thinks young and colorful with business notebook refresh
Latitude adjustment
It's been a couple years since Dell last had a major refresh of its Latitude business notebooks. Lo and behold, there's all these young, sleek rivals on the scene these days.
Rather than buy a toupee and flashy car, Dell is re-imagining its Latitude line by mixing some sex appeal from consumer notebooks with a business-friendly feature set designed to appeal to more youthful workers. These young folk are apparently to be known as "Digital Nomads". Shudder with us for a moment, and then we shall speak no more of it.
Announced today are the new Latitude E-family notebooks, ranging from a 12.1in ultra-portable to a 15.4in mainstream laptop.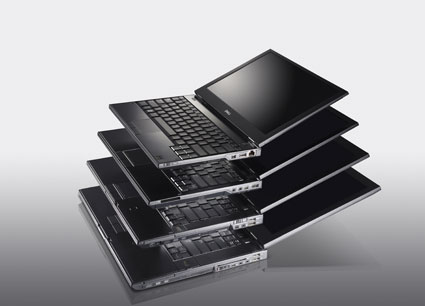 Stack o' Latitudes
The update makes some notable changes to Dell's traditional case design. Most apparent is that for the first time several Latitude models will be offered in a variety of colors. You're limited to a spectrum of understated, business-like colors with names like "regatta blue" and "regal red" mind you, but colors nonetheless. And the kids love colors.
Dell's also added a stronger metal hinge and latch system — which thankfully still blends with the aesthetic Round Rock desired. In addition, Dell has added features such as a backlit keyboard, built-in touchless RFID SmartCard sensor, built-in fingerprint reader, and a surprising battery life of up to 19 hours. More on that last part later.