This article is more than 1 year old
Dell thinks young and colorful with business notebook refresh
Latitude adjustment
Here's the breakdown of the line-up:
Essentials
Dell's base-level machines are the E5400 (starting at $839) and E5500 (starting at $869), which will be shipping sometime in August.
The E5400 has a 14.1in screen and weighs about 5.5 pounds. The E5500 comes with a heftier 15.4in display and weighs about 6.4 pounds.
Both models can be fitted with a 1066MHz Intel Core 2 Duo processor and up to 4GB memory. Graphics are handled by an integrated chip.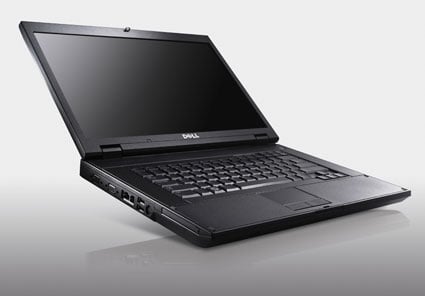 Latitude E5500
Mainstream
The Dell Latitude E6400 (starting at $1139) and E6500 (starting at $1169) are the company's new flagship business laptop models and currently available.
The E6400 and E6500 sport 14in and 15.4in displays, respectively, and add a little more kick than the 5000 series.
They use a 2.8GHz Intel Core 2 Duo chip and add a 256MB Nvidia graphics card to the mix. Max memory is 8GB. The notebooks also come with a 64GB solid state storage option. Choosing a spinning platter for storage bumps the max capacity up to 250GB.
Dell is currently selling the systems with a brushed aluminum paint job, but will add red and blue color options in September. The laptops also now include a handy eSATA port for big file transfers.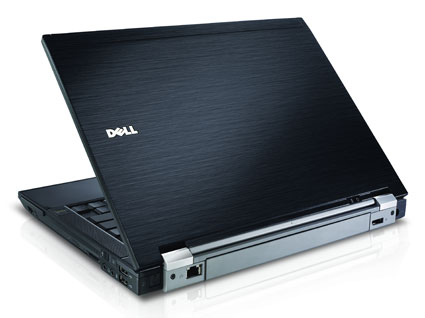 Latitude E6400
Semi-rugged
Hardware abusers get the E6400 model (starting at $1569), which comes with most of the hardware in the E6400 inside a sturdier frame.
These rugged laptops meet 810F military standards for dust, vibration, and humidity resistance and promise a screen with 750-nit brightness for outdoor viewing.
Ultra-Portable
Perhaps the most exciting of the bunch are the ultra-portables. This is Dell's attempt to approach the netbook market without cannibalizing its own sales.
Pricing hasn't been revealed yet, and they're expected to ship in September.
The 12.1in display E4200 model comes with an Intel Core 2 Duo running at 1.4GHz with integrated graphics. The laptop comes with either a 64GB or 128GB SSD and up to 5GB memory. It weighs a fraction under 1kg - 0.997kg, to be precise.
The 13.3 E4300 runs on a 2.4GHz Core 2 Duo with integrated graphics. Storage options include a 64GB SSD or spinning platter with up to 160GB capacity.
Ports include FireWire, two USB ports, and one eSATA.
This is also where Dell is getting into wild colors. Pink, ladies and gentleman. In addition to blue and red, the computer comes in pink. And you know what, it actually looks pretty slick in person.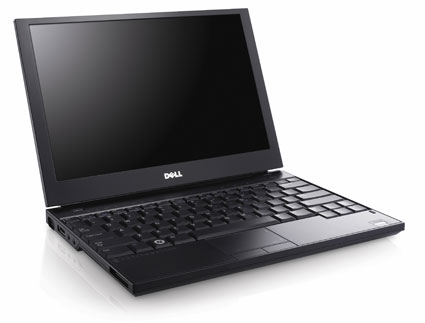 Latitude E4200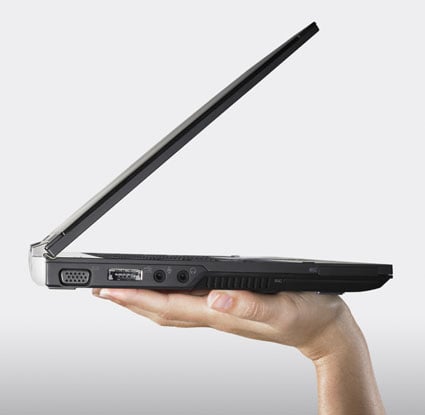 Hand not available where prohibited
Battery Life and Instant-On
Dell promises a very impressive 19-hour battery life on its E6400 Latitude laptop — but there is a hitch.
The computer actually get around ten hours on its standard nine-cell Lithium Ion battery. The advertised battery time includes an additional 12-cell battery "slice" that connects to the bottom of the laptop, and, of course, costs extra.
Dell also previewed an upcoming feature for its notebooks called Latitude ON which allows near-instant access to basic functions such as e-mail, calendar, and internet without booting into the system's main OS.
The technology has already been making rounds in various shapes and sizes such as DeviceVM's Splashtop and Phoenix Technologies' Hyperspace. We've been expecting a major vendor to scoop this up, much to the chagrin of Microsoft.
Although E4200 and E4300 models are already hardware capable, Latitude ON isn't expected to make its debut for a couple of months. Dell said the technology uses a dedicated low-voltage sub-processor and a Linux-based OS that can enable multi-day battery life. Dell said the technology was "driven" in-house, but developed in conjunction with other companies.
More info about Latitude ON is expected to be released later this year. ®