Hitachi shoots out tri-format HD camcorder
SDHC, HDD or mini Blu-ray disc, you decide
---
Shooting HD video's all well and good, but transferring footage between storage mediums is painful. Thankfully, Hitachi's launched a camcorder that supports three different formats.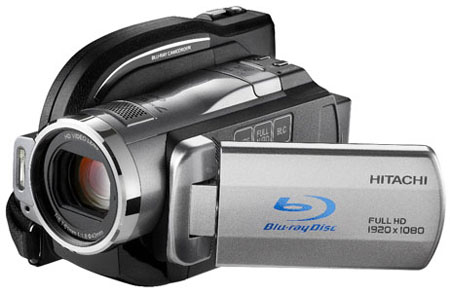 Hitachi's DZ-BD10HA has a 30GB HDD, an SDHC slot and takes mini Blu-ray discs
The seven-megapixel DZ-BD10HA captures 1920 x 1080p video footage, but lets users opt whether to store it onto an SDHC memory card, the shooter's internal 30GB HDD or directly onto 8cm Blu-ray discs.
But in case you opt for the internal HDD and then suddenly remember Aunt Nora needs a copy too, then a one-touch dubbing feature lets you burn the film onto a mini Blu-ray disc (yes, some pensioners have succumb to the format already), without the need for a PC.
Optical image stabilisation and face detection are built into the camcorder, but if you catch someone in your film that you'd rather forget, then you'll be glad to hear that split, splice, delete, merge, and transitions can be done within the camcorder.
Hitachi's DZ-BD10HA will be available in the US next month for $1000 (£500/€670). A UK launch date hasn't been recorded yet.