This article is more than 1 year old
Philips Cineos 42PFL9603D Ambilight LCD TV
Enjoy the HD experience, now with added Ambilight
Review Philips' Ambilight feature at first seems bizarre: back-mounted lights that change hue as the dominant screen colour does. However, it's hard to switch off once you've used it.
So what do we make of Philips' new, uncompromisingly-designed LCD model that has hidden speakers, the latest image processing technology and Ambilight? Well, let's start with the TV actually switched off.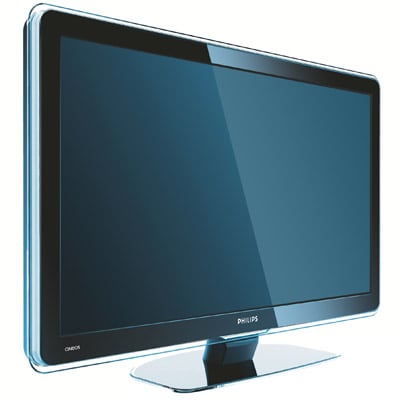 Philips' Cineos 42PFL9603D: a screen with a 'shroud'
Funny, isn't it, that frame design should be such a personal thing? While some screens have the blandest of black or silver square-edged frames, others mount massive speakers exactly where you don't want them, or decorate the bezels with extra shapes and detail.
Screens, when they're off, fall into two camps: inoffensive and... well... let's generously say, adventurous. Here, decidedly in the latter, Philips has come up with a modernist, shiny, see-through curved-edged machine. This transparent part of the frame, by the way, is called a shroud - not such a friendly name. Behind it is a pleasingly slim bezel making this 42in frame not look too huge.
Setup is easy, with installation of channels the automatic process we're used to. Then the setup assistant helps you find your ideal picture settings, inviting you to choose between split screens with subtly different effects, allowing you to find your personal preference. As you move through the options, behind-the-scenes the software adjusts contrast, colour, brightness and so on furiously while you simply pick the picture that looks best.