Easy handset unlocking has come to the UK courtesy of online supplier SIMable which is now offering a 20 quid kit to let any SIM work with (almost) any network-locked mobile.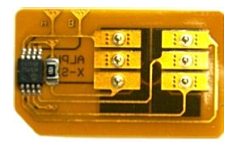 SIMable: sits alongside your SIM
SIMable seems a typical turbo SIM modifier, of the kind recently launched by Hong Kong supplier Brando. The SIM-sized ultra-skinny circuit board presses up against a SIM and tricks the host phone into thinking the card comes from the network the handset is tied to.
To make room for the SIMable's chip, you need to make a hole in your SIM card. Fortunately, a tool for making the space comes with the product.
Some handsets also require the SIMable card to be nicked with a tiny triangular cut. SIMable provides a list of compatible handsets - which includes Apple's iPhone 3G, the latest Nokias and more - here.
SIMable costs £17 plus £2.95 P&P.
Similar topics