PlayStation 3 fans hungry to get their hands on a PlayTV unit will have to wait just a little bit longer than expected, because Sony's delayed the add-on's launch date.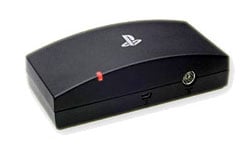 PlayTV arrives in the UK next month
The company has told Eurogamer that the unit will be launched in Blighty until 19 September, a date confirmed on the website of retailer Game.
But David Reeves, President of Sony Computer Entertainment Europe, said only last month that PlayTV would land in the UK on 10 September.
No reason has been given for the delay, but Sony is at least trying to keep gamers sweet by dropping the PS3 unit's UK price from £78 to £70 (€87/$130).
PlayTV has two tuners to pick-up DVB-T digital TV broadcasts in Europe. Users can watch one show while recording another, and pause live TV. Recordings are stored on the PS3's own hard drive and can be sent out across the internet to a PSP for viewing on the move.