Intel releases USB 3.0 controller interface spec
Speeding next-gen bus' oll-out?
Intel has provided chipset makers with a draft specification for a USB 3.0 eXtensible Host Controller Interface (XHCI), making good a promise it made a couple of months ago.
According to the chip giant, the XCHI will allow chipset makers to develop hardware that can communicate with USB 3.0 system software in a standardised, consistent way.
You might have thought that was the job of the chipset makers, but Intel's taken on the task itself to ensure, it hopes, the rapid roll-out of USB 3.0 - aka SuperSpeed USB. To that end, it's making the draft spec available under a licence that requires no royalties to be paid.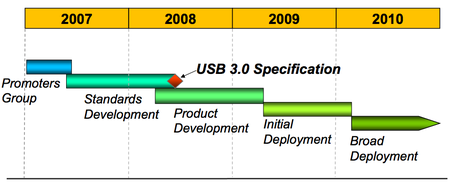 The SuperSpeed USB roadmap
With the draft spec. - it's version 0.9, so as near as darnit the final release - vendors can work to improve the interoperability of their USB 3.0 hardware ahead of certification by the USB Promoters Group, which oversees compliance with the standard.
Intel announced in June that it would offer the xHCI spec early in H2. We're a little beyond that, but the release should still appease chip makers who were grumbling back in May and June that Intel wasn't willing to share its USB toys.
USB 3.0 is set to deliver data-transfer speeds of up to 5Gb/s, initially over tweaked connectors and wiring and, later, over optical links.
Intel said it plans to make available a revised xHCI specification, version 0.95, in the Q4.