Preview The mobo in our pics may look like a VIA SN18000G, which sells for about £150 with a 1.8GHz C7 processor, but it's more exciting: it's a reference board for VIA's would be Atom-smasher: Nano.
It's designed to demonstrate the new 1.8GHz VIA Nano L2100, to be precise. The CPU's fabbed at 65nm and is set to consume no more than 25W of power. It supports the Intel's SSE 3 instruction set. It runs on an 800MHz frontside bus, and in many respects it's the least interesting model in the Nano range.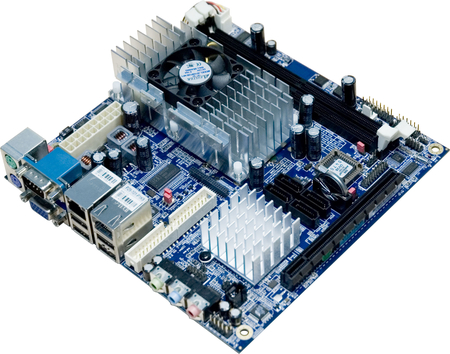 VIA's Nano reference board
The 1.6GHz L2200, for instance, has a 17W TDP and yes, we have noted that the higher model number has a lower clock speed. If you think that's strange, the U2300 runs at 1.0GHz with a 5W TDP; the U2500 has a clock speed of 1.2GHz and a surprisingly precise TDP of 6.8W; the U2350 runs at 1.3GHz and 8W; and finally we have the U2400 with a clock speed of at least 1.3GHz - it's not finalised yet - and the same 8W TDP.
If there is any rhyme or reason to those model codes, it has completely passed us by.
VIA supplied a reviewer's guide with the Nano kit and this compares the chip with Intel's Atom, and as we have reviewed the 1.6GHz desktop Atom 230, we're all set to put the Nano through its paces.
Sponsored: Webcast: Discover and secure all of your attack surface