This article is more than 1 year old
Acer Aspire One A110
The Eee-beater to beat
Review It was all so simple at the start of the year. You wanted a Small, Cheap Computer™, you bought an Asus EeePC 701. Now we have a plethora of SCCs to choose from - and Dell has still to get in on the act.
Thankfully, Acer has taken a slightly more restrained view of what constitutes an SCC. Its Aspire One is available in just three basic flavours: 8GB SSD and Linux; 120GB HDD with Linux; and 120GB HDD with Windows XP. On the desk in front of us, we have the least expensive, most basic model, the 8GB in MacBook-envy white, the most pure iteration of the SCC concept to date, in our opinion.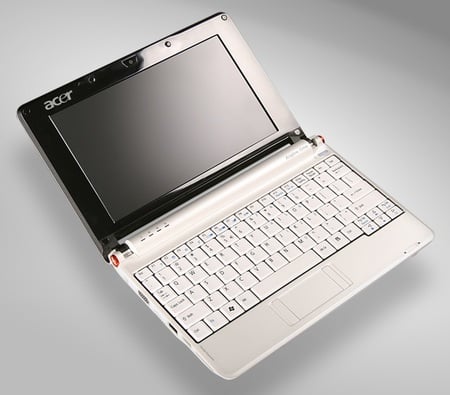 Acer's Aspire One: stylish
Out of the box, the AA1 - as fans call it - is a petite 249 x 170 x 29mm and weighs in at a correspondingly featherweight 995g (2.19lbs). So the portability box is well and truly ticked.
It's wider than the Eee: about 25mm more than the Eee 900, for example. That's to accommodate the AA1's larger keyboard, which Acer claims is 85 per cent of the size of a full laptop keyboard - larger and less cramped than the one on the Asus and, consequently, easier for bigger hands to use.
Overall, the AA1's build quality is excellent. The keyboard is well laid out, firm and responsive, the screen hinge is solid, and the fan is never intrusive once it fires up to cool things down. It has a decent colour scheme as well, the black screen surround nicely setting off the white of the lower half of the device, though we're not entirely sure what the red rims on the lid hinge are all about. There's a pleasing lack of stickers too, with only the Intel Atom label besmirching the palmrest area.