This article is more than 1 year old
Ten of the Best... Bluetooth Stereo Headphones
A2DP ahoy!
Round-up The first Bluetooth headsets were simple mono devices, however as handsets developed into advanced accessories that can play music and video, so headsets have started to develop too.
The first step was to add stereo capabilities using a technology known as A2DP (Advanced Audio Distribution Profile). And, of course, the headsets needed to gain a second earpiece in order to accommodate stereo output. This led to a number of different approaches to the design of stereo headsets. Some manufacturers simply put two identical earpieces into the box – which leaves you walking around with two silly-looking bits of plastic dangling out of your ears - stand up Etymotic and iSkin.
Other manufacturers, such as Nokia and Plantronics, have focused more on the music side of things, producing traditional headphone designs. Recently, though, there's been a third-wave of stereo headsets that attempt to combine technology with fashion, such as the 'dog tag' design of the Jabra BT3030.
One word of warning: always buy headphones or headsets that use Bluetooth 2.0, as this provides higher bandwidth and audio quality than the original Bluetooth 1.x, even though A2DP will work over it.
Creative CB8100 Wireless Headphones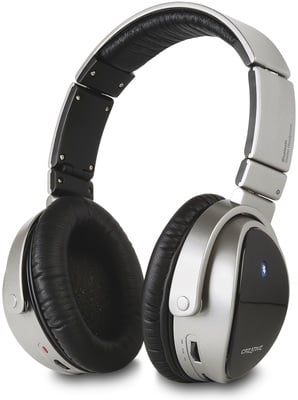 The CB8100 headphones are designed purely for listening to music, so there's no microphone that will allow you to take calls on your mobile. However, the 'phones do include a separate Bluetooth adaptor that allows you to add Bluetooth capabilities to a device, such as an iPod, that may not have it already built-in. The audio quality is a little muffled – perhaps because the CB8100 is using the older Bluetooth 1.2 standard, which has more limited bandwidth. However, the only real problem is the price, which, at £159, makes this far and away the most expensive set of headphones in this group.
Price £159
Available from Creative
Reg Rating 70%
Etymotic Research Ety8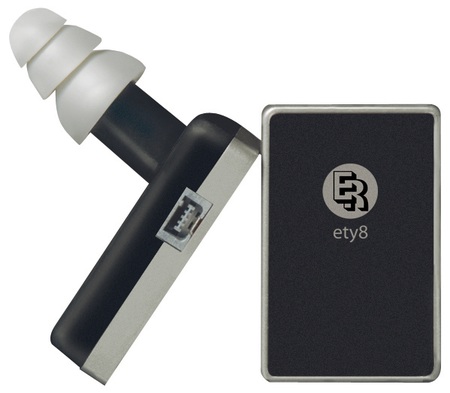 They're expensive, and we're not wild about the design, but we can't fault the audio quality of the Ety8s. The design lacks elegance: two large rectangular lozenges, each almost the size of an iPod Shuffle, dangling out of your ears connected by a piece of string - which you'll need, as the weight of the earpieces means that they fall out fairly easily. However, the audio quality is very good – clear and distinct, and you don't feel you're compromising on quality in order to get the convenience of a wireless connection. There's also an '8-mate' Bluetooth adaptor included, specifically for use with iPods.
Price £110
Available from Amazon
Reg Rating 80%
Next page:

Gear4 BluPhones