This article is more than 1 year old
Intel does SSD flash dance
Now with Dynamic Wear Leveling
IDF Full of what we call "self mettle," Intel has championed its "highly anticipated line" of big daddy solid state drives (SSDs).
Units for laptop and desktop systems will ship in the next 30 days with Intel offering up both 1.8-inch and 2.5 inch gear. The X18-M and X25-M products come with all the associated miracles of SSDs, including higher performance, quieter operation and lower energy consumption than comparable spinning disks. PC makers can pick from 80GB and 160GB drives, although the 160GB kit won't arrive until the first quarter of 2009. (Much of this information leaked earlier in the week.)
If you want to get Extreme, then the X25-E is the server SATA SSD for you.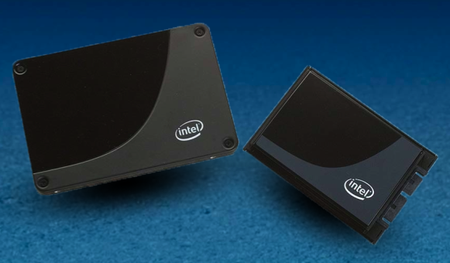 Intel's upcoming SSDs
Intel swears that its SSDs are better than the stuff from the "other guys" for three main reasons.
Highly parallel 10x NAND flash channels and powerful Native Command Queuing
which enables up to 32 concurrent operations for faster operation.
Advanced Dynamic Wear Leveling designed for higher reliability and longevity
Extremely low Write Amplification Factor which delivers superior performance for both SLC and MLC NAND flash and increases longevity
But we've all heard Intel make write amplification factor claims before, if you know what we mean.
The server SSDs should ship in the next 90 days at 32GB and then a 64GB line will ship in the first quarter of 2009.
The Extreme units offer up 250MB/s read speeds along with 170MB/s write speeds. The more mainstream products will show 250MB/s read speeds and 70MB/s write speeds. ®