A turtle with a GPS tracker attached to its shell has accidentally stumbled across a teenager's secret horde of cannabis plants.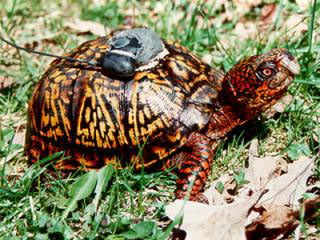 The turtle's satnav signal led police to a secret pot stash
According to a report by local US news service WUSA, "Jimmy the Turtle" was being tracked by GPS for "research purposes" in Rock Creek Park, Washington when it wandered into a remote section of the park.
A ranger in charge of the turtle went to retrieve the animal and discovered that the animal had walked – albeit slowly – into the middle of a covert marijuana field.
Local police later arrested 19-year-old Isiah Johnson of nearby Chevy Chase on suspicion of growing ten cannabis plants.
"He felt like he had a layer of security, but he probably never counted on a turtle with a tracking device leading us to that location and finding the field," said Sergeant Robert Lachance of the US Park Police.
The GPS turtle's pot discovery skills also seem to have made an impression on the University College of Los Angeles, which plans to let GPS-enabled turtles loose to find cannabis in obscure areas. It's not clear if student dorms will be included...