The phone's plastic casing feels sturdy enough, if not as immediately as eye-catchingly enticing as the W890i's metal-fronted bodywork. Its 2.2in, 240 x 320 (QVGA), 262,000-colour display dominates the front panel. Motion sensor technology has been worked into the phone too. When you're looking at content in the media gallery - images, video, music, RSS feeds and so on - or when using the web browser, the screen automatically switches orientation between landscape and portrait mode as the phone's rotated physically.
The screen sits above a nicely spaced set of controls around a central navigation navpad. There are Walkman player controls etched into the navpad buttons - along with a satnav icon at the top of the pad. Conventional call and end keys and twin soft-menu keys are given plenty of room, along with a clear key, and Sony Ericsson's useful Activity menu button - taking you quickly into a list of key functions and useful applications.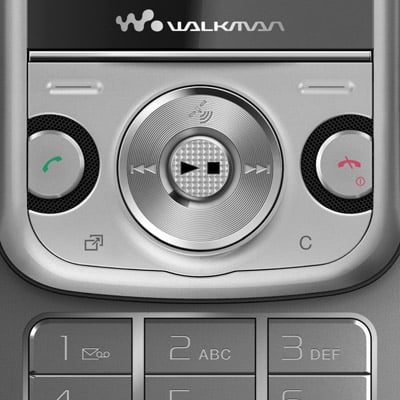 Satnav and music straight from the navpad
Menu operation is standard mid-tier Sony Ericsson, with an main menu grid of icons funnelling you into a variety of sub-menu lists and tabbed options – very easy to follow and painless to navigate.
Above the display, Sony Ericsson has added a couple of gaming controls , used when playing games in landscape mode. As well as regular 3D Java gaming, the W760i supports motion-sensor control for certain games, including the pre-loaded Need for Speed ProStreet car racer. The slide-out numberpad is straightforwardly functional, with a responsive enough feel to the large and adequately spaced keys.
There's no separate camera button – you'll need to set up one of the navpad shortcuts for that – but there is a Walkman button on the side to fire up the music player.
While the Walkman player is doing its music stuff, the Walkman button on the side also comes into play for the Shake control. Press it down and flick the phone in one direction, and tracks fast-forward; shake the other way and you go back through tracks. Shake it back and forwards and you start track shuffling, while up and down motions can be used to adjust volume.