Frankly, Shake is very gimmicky, and is unlikely to impress anyone above voting age. It's far simpler and more precise to use the music buttons, and you don't run the risk of launching your phone across the room when you change tracks.
The rest of the Walkman experience is pretty impressive, though. Using the latest Walkman user interface, it's again an intuitive, easy-to-use music player. Track classifications include artists, albums, tracks, playlists, year and genre, plus podcasts and audio books. Sony Ericsson's SensMe option can compile a playlist automatically from your choice of mood and tempo, selected graphically. However, it only uses tracks suitably rated with Sony Ericsson's supplied Media Manager software.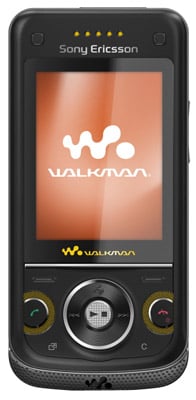 Available in black or silver, the plastic casing feels fairly sturdy
Although again veering towards the gimmicky, you could at least see this being useful for workouts, or for runners using the W760i's Tracker software. The audio performance is high quality too. The supplied two-piece earphone set is much better than average for a mobile, and gives a pleasant sound delivery, with proper amounts of bass and lots of detail.
Although the W760i uses a typical awkwardly bulky side-mounted headphone/charger/USB connector, it's easy to add your own better quality headphones, thanks to the standard 3.5mm headphone socket included on the phone side of the two-piece boxed headset. Stereo Bluetooth wirefree headphones are supported too.
The loudspeaker on the W760i can be cranked up loud – it needs to be for its satnav duties – but doesn't produce quality sound output for music: it's bass-light and harsh when at high volume.
The W760i has 40MB of on-board user storage, but comes supplied with a 1GB Memory Stick Micro memory card - there's an easy-access handy slot on the top for popping it in. Copying tracks over from a PC involves either using Media Manager or drag-and-dropping tracks, or Bluetoothing files across.
Other usual music features are present too, including a decent quality FM radio with RDS, TrackID song identification software, and the Walkman-staple Music Mate application.