There are few surprises in the rest of the multimedia features, as Sony Ericsson has stacked up the W760i with a standard mid-tier package of applications. Within its media section, you get a smooth and attractive user interface consistent with the Walkman look and feel. The video player can play back downloaded and copied videos full-screen in acceptably smooth style too.
Access' NetFront web browser is included, with the usual tidy opening screen that has Google search topping a logical line-up of options. Propelled by HSDPA, the browser offers a reasonable surfing experience for a feature phone, pulling up pages fairly smartly, though as usual some take a while to fully appear. There's the usual selection of page optimisation options for full page or Smart-Fit views, plus pan and zoom options. RSS feed support is included too, so you can get webpage and blog updates without having to regularly negotiate the browser. These can be displayed in news ticker fashion on the standby screen.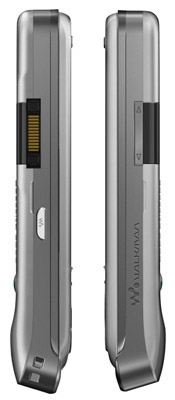 The W760i comes with 40MB plus a 1GB Memory Stick Micro card
A solid helping of organiser features and productivity tools are loaded up. You get the standard-issue calendar, tasks, notes, voice recorder plus timer, stopwatch, world clock, calculator and convertor applications, plus a weather forecast application from AccuWeather.com. A generous half dozen games have been loaded up, too – though not all have that movement sensor motion slickness.
The W760i gets the phone fundamentals right, with consistently high quality in our voice calls tests. On battery life, Sony Ericsson reckons on the battery providing up to four hours talktime on 3G networks or up to nine hours on GSM - standby time is quoted at up to 350 hours with 3G connections or 400 hours on GSM. Alternatively, using the phone purely for music playing, 20 hours is the quoted figure.
While these look pretty good, in practice steady use of the mix of functionality will reduce these figures significantly. In our tests, with our typical levels of usage we managed to achieve a reasonable two days between charges on average, but engaging the satnav or the music player, for example, for a substantial length of time will sap battery power much faster.
Verdict
Although the W760i benefits from having A-GPS and satnav software inside, it does a fine job in its core function as a higher-tier Walkman phone. The music player is capable of delivering a high-class, ear-pleasing audio performance. Despite the 3.2-megapixel shooter, the camera performance was disappointing. It's a shame too that there's no Wi-Fi to complement the HSDPA high-speed mobile connectivity. Nonetheless, the W760i's offers a solid, decent set of features to go with the music player, and the A-GPS satnav functionality adds significant appeal to the package, making it one of the more attractive models in the current Walkman range.

Sony Ericsson Walkman W760i 3G sliderphone
A high quality Walkman phone with added satnav capability makes an attractive package – though the imaging could be better
Price:
Contract: from free - £100. Pre-pay: £190. SIM-free: £230 RRP