Pentagon war-boffins have shelled out $4.6m to a noted aerial crazytech firm to develop a spy drone which can "perch" near a target, "stare" at it, then take off again and fly home.
Aerovironment Inc, already famous for such projects as the Helios solar-powered crewless wingship, the three-inch bugbot-thopter and the hydrogen strato-cruiser skyeye, was chuffed to announce the contract win yesterday. One need hardly add that the cash comes from DARPA*, the US military boffin apparat whose early-afternoon dining policy is strictly extramural.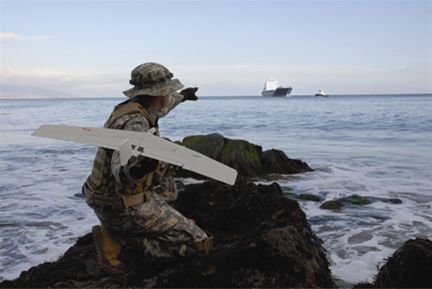 The existing Wasp - soon with Gargoyle Mode.
Aerovironment and DARPA refer to the desired perch'n'lurk mode as Stealthy Persistent Perch and Stare (SP2S), and intend to implement it starting with the existing winged Wasp machine. (We would like to offer an alternative term for winged spydroids attaching themselves to buildings etc: "Gargoyle mode".)
"A UAS that performs hover/perch and stare missions is viewed as an important capability for our armed forces," said Aerovironment dronebot chief John Grabowsky.
"Our production Wasp incorporates the latest technologies to provide a day and night capable, hand-launched UAS that fits into a standard backpack while still providing room for other important supplies. We believe that the Wasp-based SP2S... is on track to develop into a portable, practical and affordable perch-and-stare micro air vehicle."
There's no hint as to just how the Wasp will manage to perch on things, nor quite what kind of landing areas Aerovironment have in mind. There has previously been discussion of methods which might allow such drones to snare power or phone lines and hang from them like bats (perhaps even harvesting electricity from them, in the case of power lines - or tapping into phone lines, good lord). This would seem to offer an option to drop away again afterwards for the return flight, if the wire were high enough.
Alternatively, Aerovironment's Puma drone already has a landing mode in which it pitches up sharply into a full stall just above its chosen landing spot, so dropping to a stationary landing just where it wants to without any forward speed. A normal plane would destroy itself doing this, but the small tough Puma can survive such landings without damage. This apparently allows a landing on a very small area, such that the new modified Wasp might be able to set down on small ledges or other suitable perch points. Getting off again afterwards could be a bit of an issue, however, as would be the effective use of onboard cameras after such a "perch" crash landing.
A clue may be offered in Aerovironment's language, in which it is said that the new gargoyle-mode Wasp will be "capable of flying to difficult targets, landing on and securing to a 'perch' position".
For those who want to scratch their heads a bit more, the Wasp-III datasheet is here (pdf). ®
*Defence Advanced Research Projects Agency