This article is more than 1 year old
Microsoft's Photosynth falls out of cloud
'A little overwhelmed'
Updated Microsoft today released a free photo-stitching tool that runs in the cloud – sadly for Redmond, at time of writing Photosynth is having a little lie-down.
At a demo of the software at the London Eye this morning, Microsoft enthusiast evangelist Paul Foster told El Reg that the firm was keeping its fingers crossed that the fancy new website would be capable of taking the load.
He also explained that Microsoft had set aside extra space in its data centres in anticipation that the firm's servers could cope with traffic to the site over the coming days.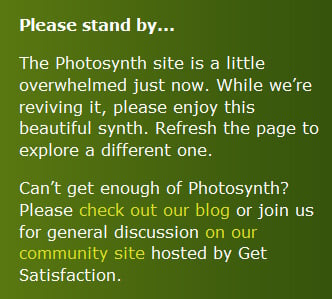 Unhappily, at time of writing Photosynth, which launched in the early hours of this morning, is grumbling that it's "a little overwhelmed".
The software – when it works – allows people to build three-dimensional, 360 degree images. Effectively, Microsoft has extended Google's StreetView to its next logical conclusion with today's release.
It automatically analyses hundreds of pictures taken at a particular location before knitting them together to create a fused high-resolution panoramic image.
Microsoft Live Labs developed the technology in tandem with researchers at the University of Washington over the past two years. The viewer uses technology from Seadragon, a company bought by Microsoft in February 2006.
Unlike StreetView, which allows snoopers to view still photographs of real locations as you navigate a graphical map on the Google Maps service, Photosynth allows you to pan and zoom across such photos in 3D space.
At the moment it only runs on Windows XP service packs two and three and Vista. We asked Microsoft when Mac fanboys can expect to get their mitts on Photosynth. Foster told us the team was working on developing it for that platform but he couldn't give any timeframe for when it might land.
The major reason for the software being tied to MS platforms is due to the fact that it unsurprisingly relies on Microsoft's DirectX technology, which rivals OpenGL. So the likelihood of Mac fanciers seeing the tech any time soon is pretty remote by our reckoning, unless they want to run it in boot-camp mode, which they can do from today.
Also noteworthy is that Microsoft hasn't bet big on SilverLight with Photosynth. Instead it's opted for Flash support, conceding that it's not the market leader in that field, but also scoring something of an own goal too. If Redmond isn't 100 per cent confident in the online services it has out there today, then what conclusions might its customers draw?
Photosynth has scored big, glossy ink today. But what's once again been brought into sharp focus is the company's failure to truly cope with scaling and managing clustered server-based services up in the cloud. ®
Update
Microsoft blamed "incredible demand" for its Photosynth website collapsing under the load yesterday. It finally came back to life in the early hours of this morning (22 August).
"Getting ready for the launch we did massive amounts of performance testing, built capacity model after capacity model, and yet with all of that, you threw so much traffic our way that we need to add more capacity," explained the company in a blog post entitled "Yikes!"