This article is more than 1 year old
UK fraudster gang go PIN sniffing
Portsmouth Asda links to credit card hack
Analysis The organised tampering of PIN entry devices to commit credit card fraud, which led to arrests in Birmingham last week, has been linked to a breach in an Asda store on the outskirts of Portsmouth.
Cash was withdrawn from ATMs in China and Canada after the cards were used in the Gosport branch of Asda, Register sources confirmed.
Margaret Galea, 66, was one of the Barclays customers hit by the scam, which involved creating counterfeit cards and tampering with PIN entry terminals to capture and relay details to cybercriminals. Galea and fellow victim Deborah Gibbs, 48, each had around £1,000 taken from their accounts as a result of the scam. Barclays spokesman Danny Reardon told the Portsmouth News that 20 customers had lost money.
Arrests of the two suspects last week are part of an investigation into the tampering of PIN entry devices. Recent posts in underground forums have offered information on how to tamper with PIN entry devices, including schematics and a specialist Bluetooth transmitter and associated software for $4,000, net security firm PrevX reports.
It's likely that a network of cybercriminals has adopted the tactic, though how commonplace its use is remains unclear.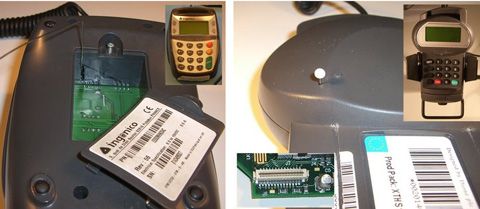 Cambridge University research lifted the lid on PIN Terminal insecurity
Concerns about the security of chip and PIN surfaced after Shell temporarily withdrew the authorisation method in May 2006. These worries were underlined by research by Cambridge University, published in February 2008, which discovered a lack of encryption in the data exchanged between PIN entry devices and cards during transactions.
After tampering with vulnerable devices cybercrooks harvested card details and PIN numbers; this data can be used in counterfeit cards to make withdrawals at foreign ATMs that only check details on easily forged magnetic strips.
Hacking Chip and PIN readers in this way is somewhat involved. The line from banking industry associations such as APACS is that there are easier, more cost-effective methods to extract the same information.
APACS maintains that Chip and PIN is the safest method of payment for goods and services. It points out that fraud on the High Street has steadily reduced since Chip and PIN's roll-out in 2005. However, figures from APACS show that online fraud (which is outside the scope of Chip and PIN), and more recently fraud abroad, have steadily increased.
APACS states that victims of PIN tampering attacks can rely on the banking code to refund them for losses. In these circumstances, customers' PIN numbers have been used to complete transactions. So unless a pattern of fraud is apparent, customers may have their work cut out to convince banks they have been careful in not disclosing their PIN when they come to contest "phantom withdrawals".