This article is more than 1 year old
Acer Aspire 8920G 18.4in laptop
Does a video-friendly 16:9 screen make any real difference?
Review Acer is just one manufacturer vying for our attention amid the furore over the new netbooks, and it's hoping the Aspire 8920G will re-interest us in full-size laptops.
Those of you lamenting the industry's switch to a widescreen 16:10 aspect ratio from the old, squarer 4:3 should look away now, as the 8920G's USP is the use of an even wider 16:9 display. Unfortunately for those not fond of widescreen panels, it's a feature that's about to be rolled out across the industry. Unlike the change from 4:3 to 16:10, where screens simply became larger, the new panels lose vertical pixels, with a maximum of 1080 pixels currently available.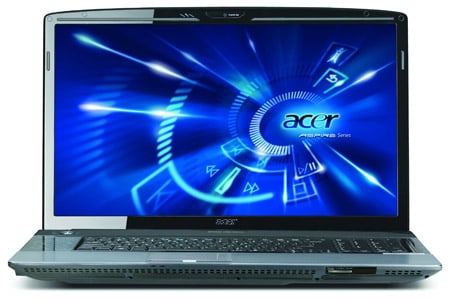 Acer's Aspire 8920G: 18.4in, 16:9 aspect ratio display
The 8920G's screen has grown to a massive 18.4 inches, the better to highlight HD content played back on its 1920 x 1080 resolution - spot on for 1080p content. Even upscaled DVD material plays back without the letterbox black bars on the top and bottom of the display thanks to the 16:9 ratio.
There's no arguing with the quality of HD content on the Acer, and pin-sharp details make it a good laptop for watching your DVDs too. That said, many 17in 1920 x 1200 (WUXGA) panels offer an equally impressive viewing experience.
As with nearly every consumer laptop, the Aspire has a glossy coating, suffering from the usual reflections in direct sunlight, but bright and vivid in other conditions. Most colours, along with blacks, are recreated faithfully, although greens appeared slightly over-saturated, we felt. The screen can show 16.7m colours - many laptop panels only do 260,000-odd - using them to display 90 per cent of the colours within the RGB gamut.