This article is more than 1 year old
Acer Aspire 8920G 18.4in laptop
Does a video-friendly 16:9 screen make any real difference?
Rather than any increase in usability or quality, the most noticeable aspect of the 18.4in screen is its sheer size. Where some 17in laptops,– such as the bigger of Apple's two MacBook Pros, retain an element of portability, the ultra-wide Acer is definitely going to be deskbound. You'll do well to find a laptop bag it'll actually fit in.
So you know, the whole thing weighs 4.1kg (9.05lbs) and measures 414 x 300 x 40-44mm. Compact it ain't.
Although the display restricts mobility, it does result in one of the most spacious chassis' available, with enough room to fit a full-sized keyboard and numeric pad alongside. The keys feature a tactile rubber-like finish, and a quiet typing action creates a sense of quality. With so much width on offer, it's a shame the number pad is right next to the main board, rather than slightly apart from it, making it easier to clip by accident when typing at speed.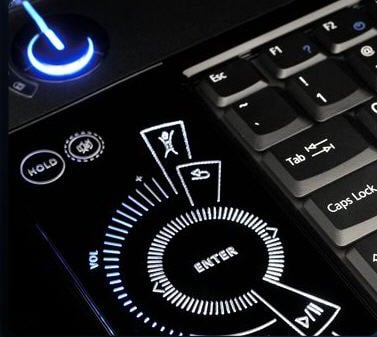 Make way for CineDash
Part of the reason for its close proximity is because the left-hand side of the chassis is taken up by Acer's oversized CineDash control – a "capacitive human interface device", according to the company's bumf. It's actually a set of back-lit touch-sensitive buttons for controlling media playback – providing you use Acer's own player app to do so. It doesn't support other programs, such as Windows Media Player. Beauty is definitely in the eye of the beholder, but we found it garish and fussy, and it ruins what is otherwise a cohesive and tidy design.
A cylinder at the rear of the laptop incorporates the screen hinges and a sub-woofer. It's part of Dolby's 5.1 Home Theatre sound setup, which includes a couple of speakers in the panel above the keyboard and two more on the front of the chassis. We found sound quality to be reasonable – it's certainly an improvement on most laptops' tinny, two-speaker sound - but we'd still be tempted to hook a set of external speakers when watching films.