This article is more than 1 year old
Acer Aspire 8920G 18.4in laptop
Does a video-friendly 16:9 screen make any real difference?
Like Dell's XPS M1730, the Acer is capable of supporting PhysX, a technology that enables games and programs to handle complex physics calculations using the GPU rather than the CPU. Although it may prove beneficial during specific games, it didn't help during our 3D benchmarking, which doesn't take advantage of either PhysX.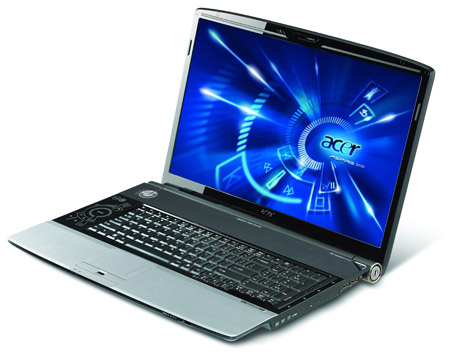 Build quality is of Acer's usual high standard, with tough plastics used throughout
You'll struggle to play the latest games – such as Crysis – in such high resolutions or with full detail settings, but dropping the resolution to 1280 x 768 saw a performance increase of over 25 per cent in our benchmarks. This helps to make the Acer a useful family machine, where you'll be able to run regular applications or play most games without compromise.
But then, with its screen, this is really a machine that's more about movie viewing than gaming.
The Windows Experience rating of 5.1 – out of 5.9 – was brought down by the memory. It scored 5.9 for graphics, 5.6 for gaming, and 5.4 for both processor and hard drives.
Verdict
The Aspire 8920 is a well-made laptop offering a powerful specification, and is worth a look if your needs are centre on watching movies and maybe casual gaming too. The switch to a 16:9 aspect ratio doesn't offer any great benefits, however - who can't live with some slim black bars above and below the picture? It's difficult to see the latest screen sizes as anything other than a cynical ploy by manufacturers to sell more laptops.

Acer Aspire 8920G 18.4in laptop
A comfortable and solid performer, but the 16:9 aspect ratio doesn't offer any great benefits