This article is more than 1 year old
Royal Navy plans world's first running-jump jet
Carrier flyboys to descend on a wing and a prayer nozzle
British boffins and test pilots are continuing to work on a new deck-landing technique, to be employed by Blighty's upcoming generation of supersonic stealth jumpjet drivers when coming aboard the Royal Navy's new aircraft carriers. It seems possible that the "Shipborne Rolling Vertical Landing" (SRVL) may become a routine option in future.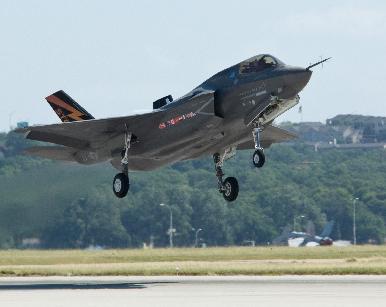 The world's first running-jump jet?
Flight International reports today on the ongoing SRVL efforts, being carried out largely in-house by the remaining UK government defence boffinry outfit, DSTL. It appears that the new SRVL approach will offer serious advantages over previous methods of recovering aircraft aboard a carrier - at least for the Royal Navy.
The idea of SRVL is that a jumpjet, rather than coming down in a vertical hover fully supported by engine thrust, would still be moving forward fairly quickly as it landed. This would add some lift from the wings to that from the vertical-thrust drives, so that the plane could be carrying more. However, it wouldn't be going so fast as to need arrester wires, so the method could be used aboard the new British carriers. Rather than a classic jump-jet descent, the new planes would thus be making a "running" jump landing*.
According to Martin Rosa of DSTL, quoted by Flight, SRVL will let an F-35B supersonic stealth jumpjet - the plane that the Royal Navy's new carriers are intended to operate - set down with an extra 2,000lb aboard compared to a normal vertical landing.
The issue of "weapons bring-back" to a carrier deck is a hot-button one for the Royal Navy, as it will want to use its F-35Bs as air-to-air fighters in addition to doing strike missions. British F-35s will need to be able to take off armed with hefty AMRAAM missiles, fly a routine patrol and land back on without ditching weapons into the sea - even in hot tropical airs, where jet engines lose significant amounts of poke. The late, great Sea Harrier fighter could only manage such a feat in cold northern skies, which is why it was retired recently to a chorus of disapproval.
US programme officials at the Farnborough airshow last month insisted that the F-35B will be able to get aboard an RN carrier vertically complete with AMRAAMs, though they admitted that the British requirement was "specific in terms of temperature, altitude and so on ... there will be instances" where SRVL would be the best option. This seems to hint that the straight-down landing may not be an option on hot days in certain places, though possibly only inshore rather than at sea level.
As the F-35B programme has struggled with weight problems in the past, though, many have speculated that SRVL might be a case of necessity being mother to invention rather than a clever way to enhance already-OK performance. According to DSTL's Rosa, the whole idea remained in the realm of speculative simulator studies from "the late 1990s" until 2006, when serious SRVL research was funded by the MoD. Trials were carried out using a Harrier testbed aircraft aboard the French carrier Charles de Gaulle last year. If the MoD saw no bring-back concerns for the F-35B in 2006, when the current funding troubles were already very much present, it would seem likelier for them to postpone pricey tests on a nice-to-have trick - rather than press ahead, as they did. So it seems very plausible that there is concern on the matter at the MoD, if not so much across the pond.
All that said, barring radical upgrading of the new British carrier design - highly unlikely given the MoD's terrible financial problems - the RN is likely to be stuck with the F-35B almost regardless of how good it is, so the Service will probably be glad to have SRVL in its toolkit. This will be the more so as the technique could perhaps be used to lessen wear and tear rather than to carry more load, so saving money on maintenance. The only downside would seem to be the potentially large amount of clear deck required compared to a vertical set-down. This might put a crimp in the ship's ability to handle large numbers of planes quickly, so lessening the combat power of the fleet.
The Flight article can be read here. ®
Bootnote
* They already do this to take off. Extra lift from forward motion (and sometimes a "ski-jump" ramp) is essential for current Harriers and future F-35Bs to get airborne with a reasonable fuel and weapons load. Straight-up liftoffs can be made at airshows and the like by dispensing with weapons and carrying only partial fuel.