Dell thrives in up server market
Ugly economy fails to tarnish iron in Q2
The server biz is still booming thanks to customers buying up x86 boxes. The current worldwide economic agitation doesn't seem to have affected with major vendors with all of the big names shipping more metal in the second quarter of 2008 than the same period last year, according to the latest bean counting from Gartner.
Global shipments of servers grew by 12.2 per cent in Q2 compared to the same period last year, according to Gartner. Total revenues from servers also grew 5.7 per cent worldwide year-over-year.
The biggest gains were from Dell, which remained third in overall revenue — but licked a lot of stamps in Q2 and shipped nearly 25 per cent more machines year-over-year.
"In spite of economic constraints in some markets like the United States, on a worldwide basis, servers continued to grow in the second quarter of the year," said Jeffrey Hewitt, veep of research at Gartner. "The most significant driver in the quarter continued to be an upswing of x86 server replacements that started in the first quarter."
Hewitt also reckons free-spending internet firms and continued growth in emerging markets helped offset tightened wallets in many areas.
In revenue, IBM widened its lead during the second quarter. Big Blue's coffers expanded 11.5 per cent to hold 31.2 per cent of the global market share. Gartner said IBM had healthy increases in System p and System z sales, which helped make up for declines in other areas. Hewlett-Packard held on to second place with a less impressive 2.9 per cent growth in revenue and command of 27.6 per cent of the market thanks to its ProLiant, Integrity and NonStop brands. Dell grew 15 per cent year-over-year for 13 per cent of the cash spent on servers worldwide. Sun Microsystems, meanwhile, lost 6.8 per cent of the revenues it had in the same period last year for 11.8 per cent of the market share. Fujitsu dropped a tenth of a percent and claimed 3.6 per cent of the server money.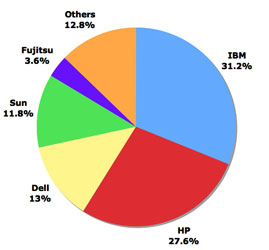 Revenues market share
Looking at server shipments, HP is still on top with 30.2 per cent of all the metal sent away in Q2. That was helped by 8.7 per cent shipment growth year-over-year. Dell had a massive 24.2 per cent gain in shipments year-over-year for its 24.7 per cent piece of the pie. IBM grew 4.7 per cent to hold 13.2 per cent of the global market. Sun grew 1.6 per cent from Q2 2007 for its 4.1 per cent total share, and Fujitsu grew 3.3 per cent for 2.6 per cent of global shipments.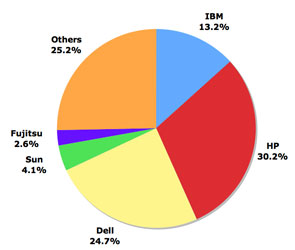 Shipment market share
With growing interest in x86 servers driving the market, RISC-Itanium Unix servers fell 7.9 per cent in shipments. Despite this, the boxes grew 9.4 per cent in revenue, indicating that high-end (high-margin) systems are still are finding happy homes, according to Gartner. ®