This article is more than 1 year old
Logitech rolls out Wii wheel, with feedback
Driving Miss Daisy, it ain't
Logitech wants you to feel the force, the Speed Force, that is, integrated into the first Wii driving wheel capable of providing feedback to vibration-addicted speed freaks.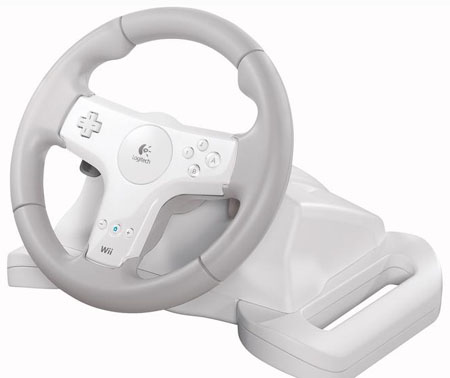 Logitech's Speed Force Wireless for Wii
Accelerator and brake controls are positioned on the wheel itself, so there's no need for pedals. A lap-rest comes with the wheel, making a comfy sofa-seated drive a distinct possibility.
The 2.4GHz wireless driving system communicates with the Wii over a USB receiver and will operate at up to 9m (30ft) away from the console. It's worth noting that Speed Force Wireless requires a mains power connection, so it's not entirely untethered.
Logitech's Speed Force Wireless racing wheel is expected to be available in the US and Europe from November, priced at around $100 (€75/£50).