This article is more than 1 year old
Advent 4211 mini notebook
Dixons tempts with cut-price Wind
Review OK, so the Advent 4211 is MSI's Wind, sold under a different name, in this case DSG's in-house PC brand. But it's worth a look because of a couple of differences, most importantly the price.
As the original notion of the Small, Cheap Computer, as embodied in the Asus Eee PC 701, has grown to take in bigger screens, better touchpads, faster CPUs, Windows and hard drives, the price has inevitably gone up.
MSI wants £329 for the Wind, which is clearly the wrong side of the £300 barrier. Some would even argue that that's too much, and £200 should be the maximum SCC price point. Now that the original Eee can be had on special offer for well below that, why opt for a well more expensive Wind?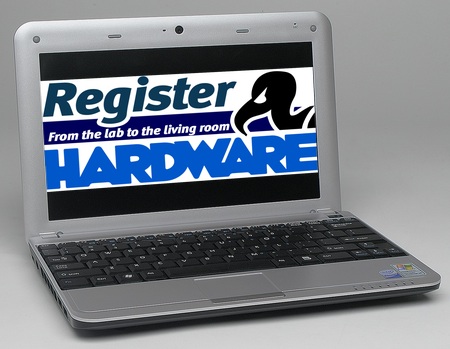 Advent's 4211: Wind, cheaper
Well, the 4211 means you can have one without paying that much. PCWorld and other members of the chain formerly known as Dixons have priced the 4211 at £280, which brings it a lot closer to the SCC ideal.
For your money, you get Intel's 1.6GHz Atom N270 processor - as per the Acer Aspire One (AA1), the Asus Eee PC 901 and its later stablemates - 1GB of DDR 2 memory and an 80GB hard drive. You also get Windows XP SP3, but since this boy is cheaper than the Linux version of the Wind, you're still saving money if you choose to install Ubuntu instead.
The 4211 sports a bright 10.1in display, but the resolution remains the customary 1024 x 600, so the image is simply bigger than the one on the 901 or AA1, not of a higher resolution.