This article is more than 1 year old
Olympus E-420 digital SLR
It's dinky and it delivers good pictures
Review Many of us want the slimmest, lightest, most portable camera we can afford. No surprise, then, that Olympus is making a lot of noise about the E-420, claimed to be the "world's most compact DSLR".
The E-420 is certainly a tiddler when compared with most other DSLRs on the market, measuring 129.5 x 91 x 53mm and weighing just 380g without the battery. That said, the E-420 is hardly in the same league as a compact camera, especially when you slap a zoom lens on the front - although Olympus does offer a 25mm/f2.8 fixed-focus pancake lens, just 24mm deep.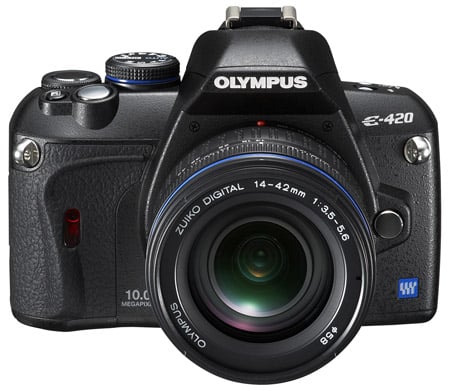 Olympus' E-420: dinky compared to other DSLRs
We used the E-420 with a 14-45mm/f3.5-5.6 lens and that combination would certainly be a tight squeeze in your average handbag. The camera uses the "Four-Thirds" lens interchange system specially developed by Olympus and Kodak for digital photography and supported by others, including Panasonic and Leica, although many other big names, such as Canon and Nikon, do not.
The E-420 has a ten-megapixel 4/3in Live MOS sensor, which measures 17.3 x 13mm. A quick tour of the camera reveals at the top, a flash button - incidentally, the E-420 has wireless flash capability; a multi-function button for remote control, timer and sequential shooting; pop-up flash; hot shoe; and, on the right, a large mode dial (with power on/off lever below), control dial, shutter button and exposure compensation button.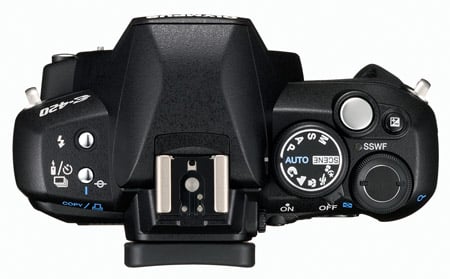 The E-420 has wireless flash capability
The back of the camera is dominated by a 2.7in LCD, to the side of which are a playback, delete, Menu and Info buttons. To the right, you'll find AE and AF lock button, display mode button and rocker control dial (including a function button) with a central OK button.