This article is more than 1 year old
Google stretching underwater comms cable?
To Guam and beyond
It looks like Google is prepping another underwater comms cable.
In February, the search giant finally admitted it was partnering with five Far Eastern outfits to stretch a cable from the US to Japan. And now, says a comms-happy research outfit dubbed TeleGeography, Eric Schmidt and crew are planning a second cable system that would connect Japan to Guam, Hong Kong, the Philippines, Thailand, and Singapore.
TeleGeography has even provided a map: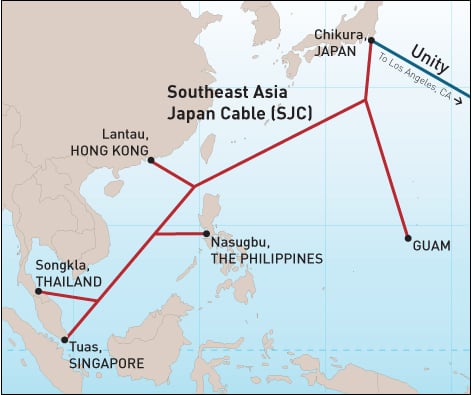 TeleGeography
As you can see, the research outfit is calling this the Southeast Asia Japan Cable (SJC). Naturally, the idea is to link the new system with that trans-Pacific "Unity" cable. Google and its parters aim to finish Unity by 2010, and a TeleGeography analyst estimates that the SJC will follow a year later.
Once again, TeleGeography says, Google will work in tandem with a several Far East comms companies, and most are also part of the Unity consortium.
Meanwhile, ITWeb reports that Google is looking to run a third underwater cable to South Africa. But the company insists it's not in the underwater cable business. "We're not competing with telecom providers, but the volume of data we need to move around the world has grown to the point where in some cases we've exceeded the ability traditional players can offer," Google said as it announced Unity.
What the company didn't say is that building its own cables is, in the end, much cheaper. It can also cut traditional network providers out of the worldwide bandwidth equation. In similar fashion, Google has spent the past few years gobbling up dark fiber here in the States. ®