IFA In move to take on the likes of the Pioneer Kuro and Panasonic's Viera, Philips has announced the 42PFL9803 TV with black-enhancing LED backlight technology.
The 42in display features what Philips calls "2D dimming control" covering 128 individual areas, enabling the LCD TV to compete with the best plasmas TV sets, the company claimed.
And to be honest, having had a sneak preview at this screen at the IFA show in Berlin before it was officially announced, we can honestly say it will present some healthy competition for the likes of the Pioneer Kuro and Panasonic's Viera.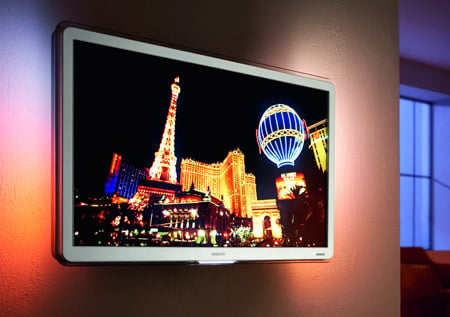 Philips' 42PFL9803: you can't really do it justice here, but take our word for it
The 42PFL9803 is the first LCD TV to feature Philips LED LUX dimming backlight technology, which comprises 128 segments of LEDs (1152 in total) in eight rows, each containing 16 segments. Nine LEDs are assigned to each individual segment and these LEDs can be individually dimmed to precisely control the output of each pixel. So, even if a segment contains both bright and dark portions, the pixel values of the dark portions can be dimmed to deliver optimum contrast performance.
The amount of dimming actually required by each LED is continuously calculated to accurately reproduce the image. Because there is no light leakage, the dark parts of the image become darker and the bright parts become brighter, delivering dramatically superior contrast and deep black levels with an incredible claimed 2,000,000:1 dynamic contrast ratio.
Beat that, Sharp. The Japanese company today announced an LCD TV with a 1,000,000:1 contrast ratio, indicating that an increased focus on hyper-high contrast, blacker-than-black displays is clearly under way.
Expect to pay around €2500 for this pitch-black puppy. It will go on sale across Europe at the end of September.
IFA 2008 complete coverage