Roberts Stream 202 DAB/FM/net radio
Full stream ahead or does this digital radio run out of puff?
Review In what Roberts claims to be a world first, this unit delivers DAB, FM as well as Wi-Fi connected internet radio and music streaming all in a traditional kitchen-style portable.
A more modern look than perhaps Roberts is known for greeted us when we opened the box. The exterior is attractive enough, with a metallic grille and an angled upper surface on which the controls are laid out. The black version looks slightly better than the silver version. However, the overall impression isn't of the usual reassuringly solid feel you get with a Roberts: this one feels a little lightweight and on the 'plasticky' side. The carry handle also feels a little flimsy.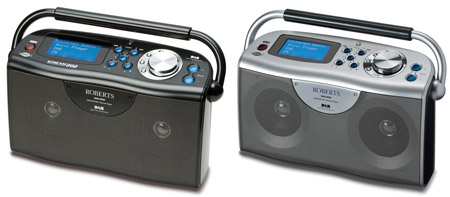 Roberts' Stream 202: lightweight?
The control array, which consists of the main knob and a range of buttons for navigation and selecting favourite stations, also looks a little fussy, and we felt could be simplified. The aerial is of a good length, but also feels a little on the vulnerable side. The central control delivers with a smooth click-and-scroll action for selecting functions and stations.
Only 15 station presets are available: five internet, five DAB and five FM - not a particularly generous amount. The unit is mains powered, but does have the option for battery use in the form of six hefty D-size cells. Roberts admits that the battery option is really only meant as a back up or for occasional use - the unit has a power consumption level - which damages the Stream's portability credentials.
The user experience isn't an altogether a happy one either. Whilst navigating, the mode and menu buttons work in partnership - so why are they on separate sides of the control array? One is blue plastic and pill-shaped and the other is a metallic pin-head type of button. Moving from menus and modes just feels a little more complex than it could have been.
The blue display is large enough and provides a reasonable amount of information, but the text is quite block-like. It's fine if the characters are still, but the less-than-rapid refresh rate means that once text starts to scroll across the screen, it becomes very difficult to read.
The Stream's DAB reception isn't the best we have seen either. We compared it to a Roberts RD8 portable digital radio in the same spot and the older model performed considerably better, picking up a few more stations and delivering a more robust output.