This article is more than 1 year old
Google admits Android App Store Market
No Jobsian ruby killing
As expected, Google will offer its very own Android app store. But don't call it can app store.
In late May, at the Google I/O developer conference in San Francisco, Android project leader Andy Rubin stopped just short of announcing an iPhone-like app store for his not yet open open mobile platform. And today, over at the Android Developers Blog, colleague Eric Chu finally finished the job, trumpeting "an open content distribution system that will help end users find, purchase, download and install various types of content on their Android-powered devices."
Chu calls it the Android Market, doing his best to distance himself Apple's priceless-ruby-killing iPhone operation. "We chose the term 'market' rather than 'store' because we feel that developers should have an open and unobstructed environment to make their content available," he says.
He compares the Market to YouTube: "Content can debut in the marketplace after only three simple steps: register as a merchant, upload and describe your content and publish it. We also intend to provide developers with a useful dashboard and analytics to help drive their business and ultimately improve their offerings."
It will look something like this: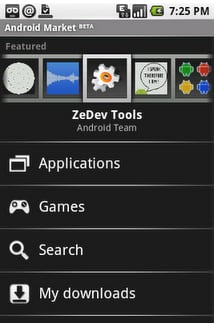 Android Market Screen
The first Android handsets - due this fall from T-Mobile, apparently - will merely offer a beta version of the new Market. After all, this is Google. "At a minimum you can expect support for free (unpaid) applications, Chu says. "Soon after launch an update will be provided that supports download of paid content and more features such as versioning, multiple device profile support, analytics, etc."
In addition to the screen above Chu posts three others to his blog, showing off "some of the security features and workflow." ®
Bootnote
This week, at a PR-happy dinner in downtown San Francisco, journalists and mobile partners who've actually handled an Android phone said the platform is "comparable to" the Jesus Phone - but hardly a step beyond the Apple status system. In other words, it's what you'd expect.