Shuttle readies DIY Atom desktop PC
---
IFA Small form-factor PC specialist Shuttle showed off its first system designed for Intel's Atom processor: the X27.
Measuring just 25 x 18.5 x 7cm, the X27 nonetheless has room for a 2.5in hard drive and a slimline optical drive in addition to its mini-ITX motherboard built around Intel's 945GC chipset.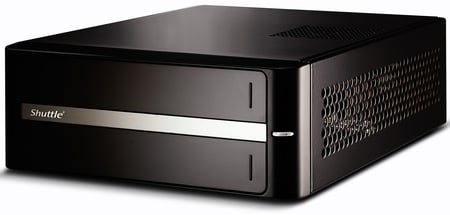 Shuttle's X27: Atom on board
Onto the board goes a 1.6GHz desktop-centric Atom 230 and up to 2GB of 533MHz or 667MHz DDR 2 memory in the board's single DIMM slot.
That's it as far as internal slots go - there are no PCI or PCIe connectors; the graphics come courtesy of the chipset. There are two 3Gb/s SATA connectors and a single parallel ATA port.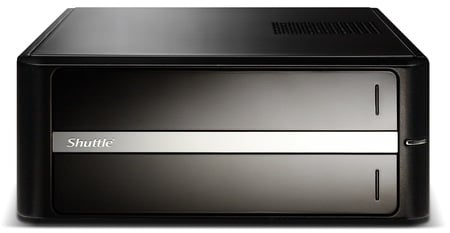 Ideal for a DIY nettop project?
The X27 has 5.1-channel HD audio and both DVI and VGA video output. It has Gigabit Ethernet and six USB 2.0 ports - two at the front and the rest round the back.
All in all, the ideal foundation for a DIY net desktop project.
Unfortunately, Shuttle didn't say when it'll be able to sell you one, or how much it will charge you for the hardware.
IFA 2008 complete coverage
Related Reviews
Intel Atom 230 ultra-low power CPU
VIA Nano ultra-low power CPU