IFA British digital TV set-top maker TVonics launched its latest Freeview boxes this week: a compact tuner and the latest incarnation of its DVR series.
The updated DVR sports a revamped faceplate but follows the standard hi-end amplifier look of TVonics' digital video recorder range. In addition to a fancier fizzog, the DTR-Z500 packs in 500GB of programme storage - enough for 250 hours of digital telly and radio, the company said.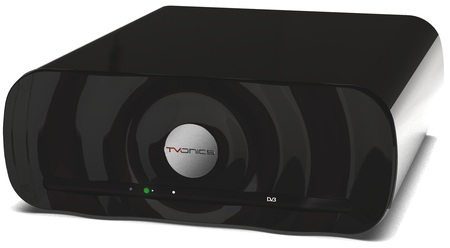 TVonics' DTR-Z500: 500GB recording capacity
The Z500 incorporates two tuners to allow you to simultaneously watch or record one channel while your recording another. Pick your viewing from the integrated eight-day programme guide.
Since the machine meets the Freeview+ spec - formerly known as Freeview Playback - so owners can set the box to record entire series of shows.
The 227 x 184 x 70mm box has a pair of Scart connectors - one of them's RGB and an antenna pass-through port.

MDR-250: incorporates Audio Description
Too chunky for you? If you can forego the DVR functionality then TVonics' MDR-250 might be more up your street. It's a single-tuner box that measures a mere 205 x 90 x 36mm and weighs 200g - the Z500's 1.85kg.
It's got the same ports as its chunkier partner and the same eight-day EPG, but it packs in Audio Description support - spoken descriptions of on-screen action for the visually impaired.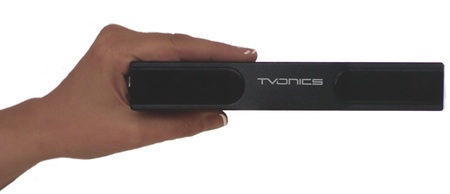 Thin is in
TVonics said the two new tuners will be out in the next few weeks or so. The DTR-Z500 will retail for £200; the MDR-250 will be around £30.
IFA 2008 complete coverage
Related Reviews
TVonics MFR-300 micro digital TV set-top box
TVonics DVR-250 Freeview Playback DVR
Pinnacle Video Transfer