Step 5: Bridging the Server's LAN
OK, we're nearing the end of this extended journey. One of the last things you'll need to do is make an important change to the Network Connections section of Windows on the server. But first, a word of caution: If your LAN is configured to use a certain DNS server or IP address, you'll have to re-enter all of these settings once you've set the network bridge. It might be a good idea to check the configuration settings and write them down before proceeding.
You may have noticed that with the installation of OpenVPN a new Local Area Connection icon was created. Under the "Device Name" column in the upper right side of the Network Connections Window, there will be the words "TAP-Win32 Adapter V9". Select this adapter and then, with the control button held down, highlight the computer's other Local Area Connection icon. Now right click and it should look like this.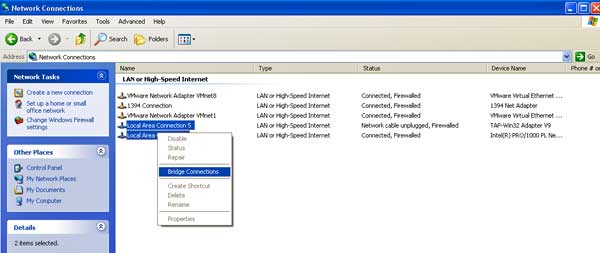 Network connections window before the LANs are bridged
Choose bridge connections and wait a moment. Your Network Connections window should now look like this:

Network connections after LANs have been bridged
As per our warning in the housekeeping section, don't forget to reconfigure the bridged LAN if required.
The moment of truth
Now it's time to fire up OpenVPN and see if you've done everything right. Your client and server will need to be on different local area networks. We accomplished this by taking the client PC to a nearby coffee shop and using LogMeIn to remotely access the server. (You could also fire up OpenVPN on the server, follow the server instructions that follow, and then head to the coffee shop and complete the instructions for the client.)
In either case, double click on the OpenVPN GUI icon that is on your server desktop (and is also in the All Programs > OpenVPN section of your start menu). An OpenVPN icon will appear in your system tray. Right click on it and choose connect. You should see a server connect status window and, 30 or so seconds later, a message indicating the server has connected successfully.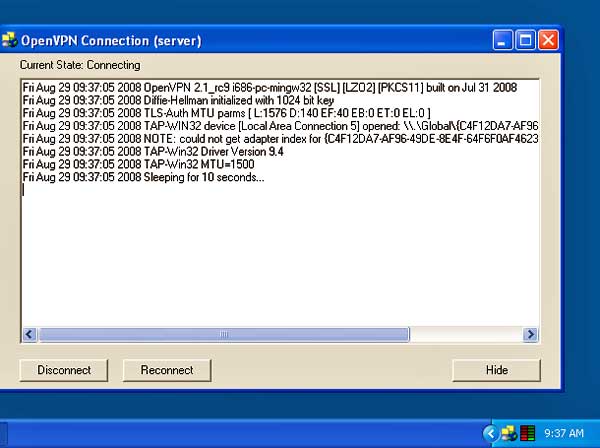 Server connecting ...

Server connected!