A German Swiss man has alleged his recently purchased iPhone 3G mysteriously overheated, almost to the point of catching fire, he said.
After an unsuccessful attempt to sync the three-week-old handset with his PC, the fellow discovered the device to have become very hot, he told Swiss German-language site 20 Minutes.
So hot, in fact, that on making a call immediately afterward, he says he was forced to swap the phone back and forth from ear to ear to avoid discomfort.
He soon detected the tell-tale niff of smoldering plastic, and was shocked to see the iPhone glow "red from the inside out". The phone's backplate become blistered and charred, he maintains.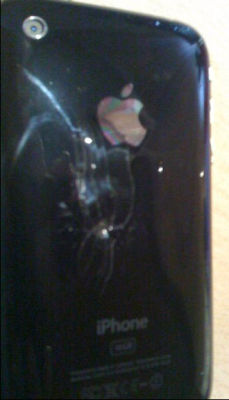 A heat-damaged iPhone?
Image courtesy 20 Minuten
Alas, the pic he took of the damage is inconclusive, with the marks looking like cracks or grazes.
Still, the event is not good news for Apple, already under fire over allegations that the new handset's 3G connectivity isn't up to scratch. useless.
Related Review
Apple iPhone 3G