Dell Inspiron 910 mini-laptop to be a hardware hacker's dream?
Set to launch tomorrow, says mole
Is Dell going to launch its Small, Cheap Computer, the Inspiron 910, tomorrow? That's certainly what one newspaper is claiming today, and there's evidence to back up that claim.
According to the Wall Street Journal, someone who knows what the PC giant's planning claimed the mini Inspiron will be announced on Thursday.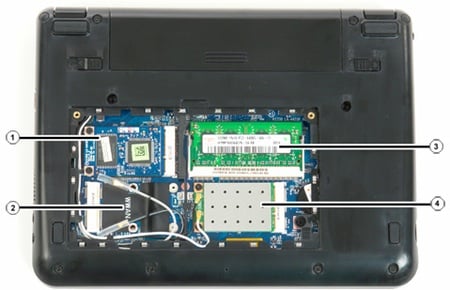 Inside Dell's 910: SSD (1), WWAN module (2), memory (3), WLAN module (4)
The device, due to compete directly with the likes of the Asus Eee PC series, Acer's Aspire One, the MSI Wind, LG U110, Fujitsu Siemens Amilo Mini and Lenovo S9, will sport a classic SCC design and spec, the source indicated.

It lights up - and we're not talking explosive batteries
So we're looking at a unit with an 8.9in display, choice of Linux or Windows XP, and a price tag of "under $400" (£226/€277).
Confirmation, of sorts, comes from Dell's own website. The company has been adding support documents for the Inspiron 910 over the last few days.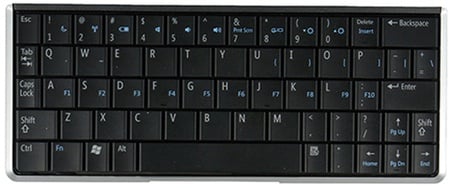 The 910's keyboard
The site reveals that the 910 is highly accessible for hardware modders, with a base panel that can be removed to expose the solid-state drive, the cellular modem, the memory and the WLAN adaptor.
It also notes that the 910 has just two status lights: one for the battery, the other for the mains power. "There are no Num Lock, Scroll Lock or Caps lock LEDs on this computer," Dell notes - and presumably no wireless light either.
Related Mini Laptop Reviews
Advent 4211
MSI Wind U100
Acer Aspire One A110
Asus Eee PC 901
Asus Eee PC 900
Vye mini-v S37B